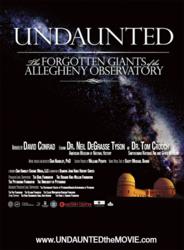 "This movie should be shown in every school in America.'
Pittsburgh, PA (PRWEB) July 25, 2012
"Mom, I want to be an astrophysicist!" is what a pleased mother of a twelve-year-old son heard after seeing the film UNDAUNTED: The Forgotten Giants of the Allegheny Observatory. This just-released film on DVD tells the untold stories behind both the birth of astrophysics and the invention of flight, and the fascinating personalities behind those remarkable achievements.
Samuel Pierpont Langley's work not only led to the establishment of a nation-wide system of time zones, he also pioneered solar research, established the discipline of astrophysics, and created the first unmanned mechanical flying machine several years before the Wright brothers. He served as both the director of the Allegheny Observatory and Secretary of the Smithsonian Institution. Quite a career for a largely self-taught scientist.
With only a grade school education, steel-worker John Brashear was also so motivated to understand the heavens that he taught himself college-level mathematics, physics, and astronomy. Despite poverty and many devastating setbacks, he went on to become one of the best scientific instrument engineers in the world—including creating the experimental optics central to establishing acceptance of Einstein's theory of special relativity!
The film is not only informative, but the stories in it clearly demonstrate the value of steadfast perseverance in learning, scientific discovery, and innovation—an important lesson from the 19th century that is even more relevant today in regaining America's technological competitiveness.
UNDAUNTED is narrated by film, television, and stage actor David Conrad (Ghost Whisperer, Wedding Crashers, Men of Honor, Boston Public, The Good Wife, CSI Miami). It also features an interview with astrophysicist Dr. Neil deGrasse Tyson of the American Museum of Natural History and Dr. Tom Crouch, Senior Curator at the Smithsonian National Air and Space Museum.
Complimentary review copies of the DVD are available to Science, Technology, Engineering, and Mathematics (STEM) non-profit organizations and members of the media.
About the filmmaker: Dr. Dan Handley is a research scientist committed to promoting science literacy--so much so that he decided to step out of the lab for a while to get behind the movie camera. His technical education include Johns Hopkins University, Biophysics, B.A., Carnegie Mellon University, Logic and Computation, M.S., and University of Pittsburgh, Human Genetics, Ph.D. He has conducted biomedical research at UCLA, the Procter & Gamble Company, and the Magee-Womens Research Institute.
The DVD is currently available on Amazon.com.
The custom-composed soundtrack is also available on Amazon.com.

Narrated by actor David Conrad.
Interviewees include astrophysicist Dr. Neil deGrasse Tyson of the American Museum of Natural History and Senior Curator, Dr. Tom Crouch of the Smithsonian National Air and Space Museum.
Written, produced, and directed by scientist and filmmaker, Dan Handley, Ph.D.
Executive produced by William Peduto, Pittsburgh City Council Member.
Original musical score composed and conducted by Scott Michael Burns.
DVD is closed-captioned in English and subtitled in Spanish.
NTSC region-free DVD; 16:9 format, 62 minutes; includes six special features.