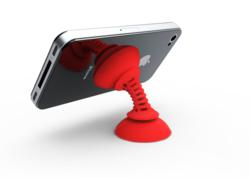 Mount to the ideal location, bend into position, play movies, podcasts, music and more
Mooresville, NC (PRWEB) July 26, 2012
Striker is proud to announce the latest innovation in mounting devices, The Simple Sucker—a flexible, suction cup smartphone mount. The Simple Sucker is perfect for watching videos, playing music, casual web-surfing, or mounting in the car when using the GPS function on smartphones.
The Simple Sucker makes mounting a phone or music player to a desk, treadmill, windshield, counter top, or any smooth surface quick and easy. Simply bend the Simple Sucker, with phone attached, into a comfortable viewing position, and start playing videos, podcasts, or music. It's also great to keep an eye on tweets, update notifications, texts, or to casually surf the web at home, in the office, or on an airplane. Just mount it to the coffee table, sit back, and relax. Use it for hands-free Skype calls, speakerphone calls at the office, or in the car with a smartphone's navigation application.
The Simple Sucker is made from a single piece of high-quality silicone, with a flexible piece molded inside to hold the phone securely in a bent position. It can even be used to wrap and store earbuds! A 1.5 inch diameter smooth, hard surface is required to mount each end of the Simple Sucker. The potential uses are endless.
The Simple Sucker will be available now at a MSRP of $6.99. For additional information, pictures, and demo videos please visit http://www.SimpleSucker.com or call 704-658-9332. (Editors can download high-resolution images & press releases at: http://www.striker1.com/press.html)
Striker's goal is to provide customers with the most innovative design solutions to accomplish tasks with ease and convenience. Visit the Striker website at: http://www.StrikerHandTools.com for more information.
####