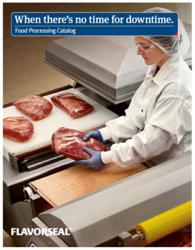 Avon, OH (PRWEB) July 26, 2012
Flavorseal has announced the release of its updated Food Processing Catalog, which will feature Flavorseal's recharged brand, new products and latest food processing innovations, as well as updates to the company's extensive line of food processing supplies.
The revised catalog is a resource for food processors, and the user-friendly design will make information and products easy to locate. The catalog contains the most up-to-date information on Flavorseal's products along with high-resolution, full-color images of the products. Food processors will be introduced to the refreshed Flavorseal brand, which more closely embodies the Flavorseal message: solving food processor's challenges in new ways, with increased efficiency, throughput, yields and profits.
The catalog will feature Flavorseal's newest innovations - Seasoning Transfer Casings, Netting, and Roasting Bags. Seasoning Transfer Technology products have the seasoning already applied inside, allowing food processors to more easily add spices and seasonings, eliminating labor-intensive and inconsistent spice application. In addition to Flavorseal's newest innovations, the catalog also includes:
•Detailed product information with close-up images of product options
•Customer testimonials and a case study on Flavorseal's products and services
Click here to request a copy of the new Flavorseal Food Processing Catalog, or call 1.866.769.1500.
Flavorseal specializes in packaging systems and products for the food processing, foodservice, and retail markets, providing customized solutions that improve ways to package, prepare and store food. The Flavorseal manufacturing facility is an American Institute of Baking (AIB) certified operation. For more information, visit us at http://www.flavorseal.com or email info(at)flavorseal(dot)com. We are located at 35179 Avon Commerce Parkway, Avon, OH 44011. Phone: 440-937-3900 or toll free: 866-769-1500; Fax: 440-937-3901