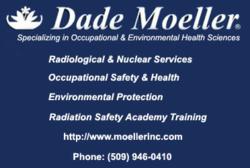 (PRWEB) July 25, 2012
Radiation protection firm Dade Moeller is pleased to sponsor the Health Physics Society's Dade Moeller Lecture series, and the Society's Dade Moeller Scholarships and Kelly Austin Scholarship. The Health Physics Society, of which Dade Moeller is a long-time supporter, is convening its Annual Meeting this week at the Sacramento (Calif.) Convention Center.
Dr. John D. Boice, Jr., newly-elected President of the National Council on Radiation Protection and Measurements (NCRP), was selected by the Health Physics Society to give the 2012 Dade Moeller Lecture, titled "NCRP and International Consistency in Radiation Protection Standards," on July 23.
The Society awarded the Dade Moeller Scholarships to Justin Cantley, a Medical Physics Ph.D. candidate at the University of Florida, and Kevin Makinson, a Radiation Health Physics graduate student at Oregon State University. The recipient of the first Kelly Austin Scholarship is Subashri Kurgatt, an Environmental Sciences Ph.D. candidate at Florida A&M University. In addition to a monetary award toward each student's academic expenditures, the scholarships support costs associated with travel to and participation in the Annual Meeting of the Health Physics Society.
The Dade Moeller Lecture series and Scholarship program, as well as the Kelly Austin Scholarship, are funded by the Washington-based company and independently managed by the Health Physics Society.
About Dade Moeller: Dade Moeller provides a full range of professional and technical services to federal, state, and commercial clients in support of nuclear, radiological, and environmental operations. The company specializes in radiation protection, medical physics, health physics, worker safety, and radiation training. Dade Moeller employs more Certified Health Physicists than any other company in the United States.