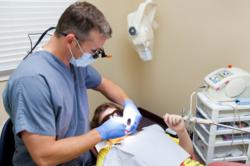 We feel it's important for patients to be informed of their options, and of the services that are provided in their neighborhood.
Portland, OR (PRWEB) July 25, 2012
Cosmetic and family dentist, Ryan Blair, DMD, has announced the creation of a new, patient-informative website created by dental website design leader, ProSites, Inc. Dr. Blair's practice, Powell Dental, is utilizing the website to educate the Portland, OR community on the importance of oral health. The website includes a links page with informative dental resources and information on an enlightening new sedation alternative such as NuCalm, used in Portland cosmetic dentistry. The website also offers a frequently asked questions page to address common concerns on topics ranging from oral hygiene to difficult dental procedures.
"Our links and FAQs pages provide our patients with dental videos, pictures, and a variety of links that are interesting and informative. We want our patients to have access to this information and be as informed as possible," said Dr. Blair.
The website possesses interactive attributes including educational videos and a free Smile Gallery feature to help patients make better informed decisions about their oral health. Current and prospective patients now have access to information about providers, helpful dental links, before and after photos of dental procedures including dental implants in Portland, Oregon, and other informative content when they visit the website. Some of the services offered by Dr. Blair include:
Cosmetic Dentistry
Implant Dentistry
Sedation Dentistry
The website also utilizes extensive search engine optimization techniques to reach patients and local consumers who are searching for relevant information about cosmetic and family dentistry in South East Portland.
"The internet is this day and age's 'Go To' for knowledge and information. Our online presence is just as important as our physical one. We feel it's important for patients to be informed of their options, and of the services that are provided in their neighborhood," said Dr. Blair.
About Dr. Ryan R. Blair:
Dr. Ryan Blair graduated with a degree in biology from Portland State University in 1995 and then furthered his education at OHSU's School of Dentistry with a Doctorate of Dental Medicine. After moving to Arizona for a year, he took over the practice of Dr. Larry Rask in 2001 and has been the sole practitioner of Powell Dental. Dr. Blair is an active member of his community and it shows in his participation of Compassion South East. On top of that, Dr. Blair has been ranked top dentist in Portland Monthly for five consecutive years and is also a member of a variety of dental associations. For more information on Ryan Blair, DMD, please visit the website at powelldental.com.