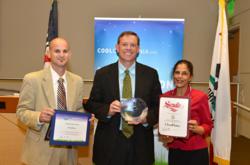 "Firelog company recognized by Air Resources Board"
Sacramento, CA (PRWEB) July 26, 2012
The California Air Resources Board proudly recognized CleanFlame with a prestigious award as a Climate Leader with helping to improve air quality. The CoolCalifornia.org Small Business Awards honored CleanFlame as a business that made notable, voluntary achievements toward reducing their climate impact. This firelog manufacturer invested in new technologies to enhance water and energy conservation. Also recognizing the company's efforts were Senator Doug LaMalfa and Assemblyman Dan Logue.
Unlike other artificial firelog brands, CleanFlame Logs and Firestarters are clean enough to cook over, toxin free, safer for our families and better for our environment. CleanFlame products represent a new era in sustainability coupled with a much healthier alternative.
"Your efforts and commitment to a climate-friendly environment and low carbon economy are remarkable. You continue to lead California to a healthier environmental and economic future. We are proud to honor your accomplishments and your success. Congratulations for this year's award," stated Mary D. Nichols, Chairman of California Air Resources Board.
"CleanFlame took an array of actions to save money and improve their internal operations while reducing greenhouse gas emissions by an astonishing 3,786 tons. Our company has taken proactive steps to reduce our impact on our climate and communicate this information to our employees and customers," said Kory Hamman, CEO of CleanFlame.
About CleanFlame: Gridley, California-based CleanFlame uses a patented closed-loop process to manufacture its firelogs and firestarters from waxed cardboard otherwise bound for the nations' strained landfills. Unlike most other manufactured firelogs, Cleanflame products are made entirely from non-toxic materials and deliver a high-heat, low-smoke fire safe enough to cook over creating a better and healthier consumer experience. Compared to typical oak firewood, a CleanFlame Log™ produces 50 percent more heat per pound but 80 percent less carbon monoxide, 86 percent less creosote and 30 percent less particulate emissions. For a bigger fire experience, outdoor enthusiasts can burn multiple firelogs together, where they will burn for hours with minimal tending and without dangerous sparks or melting. Afterward, ash from CleanFlame products is safe enough to shovel back into the soil or use as fertilizer.
CleanFlame™ and RapidFire™ Firestarters are available in retail stores in all 50 states as well as National Parks such as Yellowstone and Yosemite. Visit http://www.cleanflame.com for a store locator.