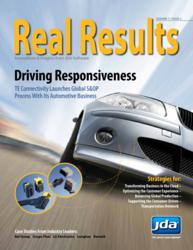 Scottsdale, AZ (PRWEB) July 25, 2012
Scottsdale, Ariz. – July 25, 2012 – JDA® Software Group, Inc. (NASDAQ: JDAS), The Supply Chain Company®, today announced that the latest issue of Real Results, the company's award-winning magazine is now available. Published twice a year, Real Results features customer success stories, points of view and perspectives from JDA and industry thought leaders on some of today's most compelling business challenges.
Each Real Results issue covers a cross section of topics that span regions, industry verticals and business functions, introducing strategies and best practices that resonate with a broad cross-section of supply chain practitioners.
In addition to success stories from a cross section of international companies who are impacting real change in their companies, the magazine offers strategies and perspectives on current business trends through multiple articles by JDA thought leaders. For example:

Scott Welty, group vice president of global accounts, outlines key principles for meeting the needs of omni-channel customers in "Optimizing the Customer Experience."
Danny Halim, vice president, consumer products industry strategy, discusses how manufacturers can use new approaches in category management to win at the cash register in his article titled "The New Age of Category Management."
David Johnston, vice president of supply chain, examines the current trend in near-shoring and how supply chain segmentation can help balance global production strategies and enhance profitability in his piece, "The Shift to Reshoring."
Joe King, senior vice president of cloud services, and Steve Davis, vice president of strategic services, discuss how companies can truly realize the full value of their cloud investments in "The Rise of the Cloud."
The magazine also features a recent survey report on the changing state of retail, commentary from JDA Users Group leaders on the value of user community involvement, and a recap of JDA FOCUS 2012.
The latest issue of Real Results, as well articles from past issues, can be found online at http://www.jda.com/realresultsmagazine.
Tweet this: Latest @JDASoftware Real Results magazine features customer success stories & perspectives from JDA thought leaders. http://jda.com/rresults
About JDA Software Group
JDA® Software Group, Inc. (NASDAQ: JDAS), The Supply Chain Company®, is the leading provider of innovative supply chain management, merchandising and pricing excellence solutions worldwide. JDA empowers more than 6,000 companies of all sizes to make optimal decisions that improve profitability and achieve real results in the manufacturing, wholesale distribution, transportation, retail and services industries. With an integrated solutions offering that spans the entire supply chain from materials to the consumer, JDA leverages the powerful heritage and knowledge capital of acquired market leaders including i2 Technologies®, Manugistics®, E3®, Intactix® and Arthur®. JDA's robust services offering, including complete solution lifecycle management via JDA Cloud Services, provides customers with leading-edge industry practices and supply chain expertise, lower total cost of ownership, long-term business value, and 24/7 functional and technical support. To learn more, visit jda.com or email info(at)jda(dot)com.
Social Networks:
Web: http://www.jda.com
Blog: http://blog.jda.com
Twitter: http://www.twitter.com/JDASoftware
Facebook: http://www.facebook.com/JDASoftwareGroup
This press release contains forward-looking statements that are made in reliance upon the safe harbor provisions of the Private Securities Litigation Reform Act of 1995. Forward-looking statements are generally accompanied by words such as "can," "will," "ensure," "help," "enable" and "expect" and other words with forward-looking connotations. In this press release, such forward-looking statements include, without limitation, comments that JDA's solutions can maximize profit margins for its customers. The occurrence of future events may involve a number of risks and uncertainties, including, but not limited to: (a) our solutions may not perform exactly as we anticipate; (b) there may be implementation and integration problems associated with our solutions; and (c) other risks detailed from time to time in the "Risk Factors" section of our filings with the Securities and Exchange Commission. Additional information relating to the uncertainty affecting our business is contained in our filings with the SEC. As a result of these and other risks, actual results may differ materially from those predicted. JDA is not under any obligation to (and expressly disclaims any such obligation to) update or alter its forward-looking statements, whether as a result of new information, future events or otherwise.
"JDA" is a trademark or registered trademark of JDA Software Group, Inc. Any trade, product or service name referenced in this document using the name "JDA" is a trademark and/or property of JDA Software Group, Inc.
JDA Software Group, Inc.
14400 N. 87th Street
Scottsdale, AZ 85260
###