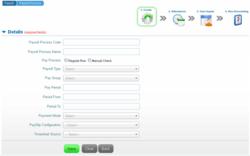 "The SutiHVM solution continues to improve in features based on customer feedback". – said ND Reddy, founder and CEO of Sutisoft, Inc.
Los Altos, CA (PRWEB) July 25, 2012
SutiSoft Inc., a trusted provider of Software as a Service (SaaS) and enterprise solutions, today announced the release of additional features for SutiHVM 4.0, its web-based human resource management solution (HVM). The new release helps automate processes and improves visibility of amounts spent on specific projects.
SutiHVM allows organizations to plan and budget salaries and positions; develop best practices for compensation, promotion, hiring and layoffs. The solution eliminates the need for paper, manual tasks and increases the value of human capital.
SutiHVM improves compliance and reduces risks relating to equitable pay, overtime, time off, hiring practices, employee conduct and working conditions.
Features Include
Payroll Enhancements
A simple to follow step by step process has been implemented.
Time-Off Calendar
View time-off data by employees or teams in the form of a calendar.
Weekly Report Notifications
Enable automatic email notifications to managers when weekly work reports are not submitted by team members.
Task Summary Notifications
Tasks from daily work reports can be consolidated and sent to all team members at the start of the next day.
Performance Rating Dashboard
View performance ratings of employees based on department, job title, status and year.
Star Rating
Evaluate employees based on tasks performed in achieving a team goal and give ratings based on their performance.
View Attrition Rates
View attrition rates of employees by department, project, or during a selected time period in the form of a chart.
Bulk Enrollments
Enroll benefits for multiple employees with a single step.
Training Requests
Training requests sent for approval will be displayed on the training dashboard and managers can approve.
Online Chat
The online chat ability allows employees to chat with other online employee or team members.
Events Calendar
View events such as interview schedules, travel requests and training schedules in the form of a calendar.
SutiHVM is available in multiple versions: Small Business and Corporate/Enterprise. Visit http://www.sutihvm.com for more info. Pricing starts at $2.95 per month per user.
About SutiSoft Inc
SutiSoft Inc. is a privately held company founded by N.D. Reddy, a successful Entrepreneur with over 30 years of experience in both the Hardware and Software industry as a Founder, and CEO. The Company's leading edge enterprise/SaaS application software products range from business productivity solutions such as Electronic Signature, Expense Management, Document Control Systems, Governance, Risk and Compliance, Security Solutions and others. The company's products are developed using Java, Flex, AJAX, HTML5 and other cutting-edge technologies which allow SutiSoft to retain its core values which are Simple, Scalable, Secured, and Seamless. Headquartered in Los Altos, California USA, SutiSoft has offices in Northern California, India, Germany and Japan. Additional information is available at http://www.sutisoft.com.