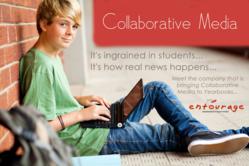 "If you search online for books published in the 70s and 80s you can easily find books that are fundamentally the same as books created now."
(PRWEB) July 25, 2012
Print journalism has gone through countless transformations over the years to keep up with the times. New technologies have widened the scope of news coverage as well as distribution. Public demand has forced newspapers, magazines, and other forms of print media to evolve quickly. Yearbooks though have had it easy. With fairly tight guidelines on content for coverage, and no real opportunity for expanding distribution, yearbooks as a journalistic entity has been able to remain unchanged and just as effective. It's finally time for yearbooks to carve a new path too. With yearbook company Entourage Yearbooks only days away from launching "Yearbooks Collaborate" on August 1st, updates to yearbook journalism are inevitable as well.
The structure of modern yearbook journalism has been in place since the 70's and is taught in schools across the country. Journalistic associations offer yearbook judging services and awards are given. Although yearbook staffs are constantly encouraged to be creative, to keep up with modern journalism trends and techniques, yearbook journalism hasn't made a major leap in over 40 years.
"If you search online for books published in the 70s and 80s you can easily find books that are fundamentally the same as books created now," said Ellen Dobro of Entourage Yearbooks. "Sure, the photography and printing processes have changed, layout has moved to a computer, but all in all the basic structure of the yearbook is the same."
Yearbook industry pioneer, Entourage Yearbooks, believes that Yearbook Journalism should follow in the footsteps of its print media cousins and aim for embracing large moves to modernize the journalistic approach. In a recent survey, Entourage Yearbooks found that the number one thing that current yearbook advisors want is more knowledge about what all the other schools out there are doing.
"It seems like yearbook advisors have this feeling that the same old yearbook formula has gone a little stale. They are actively looking for something new to keep yearbooks moving forward, " says Dobro.
Most yearbook staff members have only seen one to three other yearbooks before they begin working on their own book, and most of these yearbooks are all from the same school. Now, Entourage's new collaboration platform will provide a means for yearbook staff and advisors to browse thousands of yearbooks from across the country and across the years for design ideas and yearbook techniques.
Historically, yearbook class has been very rewarding for students looking for a future in journalism. It teaches basic journalism techniques, interviewing, reporting, layout design, and photography. Now, with changes in how a lot of these techniques are executed in the professional arena, school's yearbook curriculum may start to feel less relevant.
The major shifts in journalism today have been largely due to social media and the active roll readers are now playing in identifying and creating news. This is currently hard to replicate in a yearbook classroom atmosphere. Yearbook company Entourage Yearbooks is pioneering new yearbook tools that will improve the collaborative options for yearbook journalism students to use and provide a better real world experience in the class room.
For example, as class sizes continue to grow, there are more students and more events to cover in a yearbook. Thus the need to mirror collaborative news gathering techniques used by professional journalists can be implemented at the High School level too. With tools introduced by Entourage Yearbooks, schools will have the opportunity to collaborate more on yearbook content to make sure names and events are properly captured and recorded and that the scope of coverage is as wide as possible.
"Our goal is not to dictate a new direction for yearbooks, but to create the tools to facilitate an organic move," said Dobro. "As a yearbook company our responsibility is to listen to the needs of our customers and create a platform for them to achieve their goals. We're excited to see where it leads! "
To learn more about Entourage Yearbooks visit their website at http://www.entourageyearbooks.com