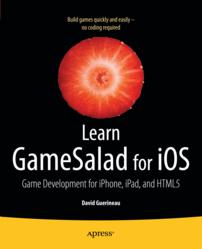 "Create games that resemble all-time classics like Pong and modern favorites like Angry Birds!"
New York, NY (PRWEB) July 25, 2012
Everyone at one point or another has said they wanted to create an App or game for their phone. One of the biggest hurdles to creating an app is learning how to code. Learn GameSalad for iOS shows readers how to create fun, fully functional games without having to program a single line of code.
"Learn GameSalad for iOS" provides a clear, step-by-step approach to GameSalad for the beginner. This comprehensive resource explains how to set up a user's development environment, then moves on to teach how to create a variety of simple 2D games from a breakout-style game to an arcade shooter or a maze game. Readers will also learn to use GameSalad to create a non-game app as well. This book takes a user beyond game development to getting exposure in the App Store and using iAd to market their game.
In a recent interview by The Daily, author David Guerineau stated he wrote this book for those "who don't speak code." Guerineau said. "The reason was that I was very excited about GameSalad but also very frustrated by the lack of existing books on this subject. I spent hours learning GameSalad from forums and online tutorials, trying to learn as much as possible. So I've decided to share in a structured, all-in-one approach what I learned about GameSalad the hard way." The book gives readers step-by-step directions on how to create games that resemble all-time classics like Pong, and modern favorites like Angry Birds. There are also sections on how to create non-game apps. Readers will also find tips on how to successfully prep their app for publication to the App Store as well as using iOS features like iAd and GameCenter.
"Though this book is designed for beginners, the truth is that anyone can benefit from using GameSalad, even experienced developers," said Guerineau. "Using it will give readers a comprehensive approach to develop their first app."
"Learn GameSalad for iOS" is the guide for aspiring developers who want to make their first gaming app quickly and easily. If you have web development experience or no programming experience at all, you'll be able to design, build and publish a game with the help of "Learn GameSalad for iOS."
To learn more about Learn GameSalad for iOS , visit http://www.apress.com/9781430243564
ISBN13: 978-1-4302-4356-4
420 Pages
User Level: Beginner to Intermediate
Publication Date: July 4, 2012
Available eBook Formats: EPUB, MOBI, PDF
Print Book Price: $39.99
eBook Price: $27.99
About the Author
David Guerineau is Vice President, Managing Director Asia Pacific at Orange Business Services Trading Solutions. In addition to working with innovative technologies for traders worldwide Guerineau also is an avid developer. He has worked with |JavaScript, C, C++, and Visual Basic for 15 years. When the iPhone arrived he became interested in the iOS SDK and Objective-C. While looking for tools to simplify the development he came across GameSalad and was immediately attracted to the concept: you focus on the game and its logic, and you design it in the interface without programming.
About Apress Media
Apress Media is a technical and business publisher devoted to meeting the needs of IT professionals, software developers, programmers, and business leaders with more than 1,000 books in print and electronic formats. Apress provides high-quality, no-fluff content that helps serious technology professionals build a comprehensive pathway to career success. Since 2007, Apress has been part of Springer Science+Business Media, one of the world's leading scientific, technical, and medical publishing houses, enabling global distribution of Apress publications.
For more information about the innovative approach Apress takes to publishing, please visit http://www.apress.com.