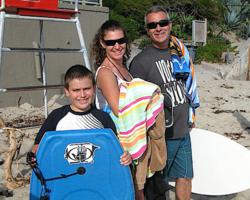 Laguna Beach, CA (PRWEB) July 26, 2012
How do you tell an energetic 11-year-old boy looking forward to a summer filled with outings to the beach, spending time with his pets, and playing video games, that he has brain cancer? This was the unthinkable task facing Michael and Sabrina McMurray of Laguna Beach, whose only child, William, was recently diagnosed with an inoperable and rapidly growing tumor known as Brainstem Gliomas.
With mounting medical expenses looming, and lacking any health insurance, a number of Laguna Beach residents have organized a special community fundraising event for the family at Mozambique Restaurant, August 14th at 6pm.
"Our goal is to allow this wonderful family to spend as much time with William as possible without having to worry about paying the bills," said Ivan Spiers, owner of Mozambique Restaurant. "We're going to be providing free food, a no-host bar and great live music for the event. There's a suggested contribution of $10 at the door, however, any donations will be gratefully accepted on behalf of the McMurray family."
The first indications that anything might be wrong with William, who is scheduled to enter middle school in the fall, came when he complained of dizziness, headaches and a little trouble with balance. These symptoms escalated until last Saturday 15th July morning when he was rushed to the Mission Hospital Emergency Room with visual impairment, slurred speech and difficulty with basic motor skills.
The chilling brain tumor diagnosis hit the family like a freight train. Making matters more challenging is their small, family-operated Laguna Beach restaurant called the Penguin Café, which requires Sabrina's full-time attention as both cook and office manager. Despite the restaurant's loyal clientele over four decades, it has suffered amid the economic slowdown.
In the meantime, Sabrina says that William is "undergoing radiation therapy to help reduce the tumor and relieve brain stem pressure, which hopefully will allow him to regain some of the functions he has lost."
In a recent blog at http://ourlil.com/william/, Sabrina writes: "He now knows that he has cancer…his response was 'that's not good' and then frustration.  I explained to him that cancer is stupid cells that have forgotten what they are supposed to do and radiation reminds them.  That seemed to help for a bit. The game plan is that he will start radiation five days a week for 6 weeks.  We all are looking forward to him going home and being treated as an outpatient as of the end of next week!"
For more information about the McMurray Family Fundraiser at Mozambique Restaurant, call Catherine Helshoj 949-241-3267 ( email – Catherineh(at)lagunatools(dot)com ). Or, if you would like to make a donation to the family make checks to; DWBH Foundation. Please include in the memo line - William McMurray c/o The Penguin Café 981 South Coast Highway  Laguna Beach, CA 9265.