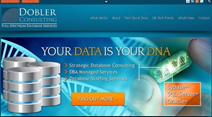 We wanted to make the same information available to all readers, regardless of the device they use for reading.
Tampa, FL (PRWEB) July 26, 2012
Dobler Consulting, a leader in Sybase, SQL Server and Oracle consulting who helps companies maximize and maintain the healthy flow of information through their businesses, announced the rebranding of its website. Their new site, http://www.doblerconsulting.com is designed for traditional, mobile, and tablet viewing.
Peter Dobler, Founder and CEO of Dobler Consulting says" We are excited to announce our new online presence which reflects the company's re-branding strategy: Database Power, Database Performance, and Database Resilience. We are thrilled with the fresh look for our website that describes our capabilities, and how we work with our clients. Our new website is all about how clients benefit from database solutions."
Features on the new site include:

Information about Database Managed Services, Strategic Database Consulting, and Database Staffing Services — readers can learn about the key benefits these three methods bring to clients, how Dobler Consulting understands the issues they are facing, and resolves their challenges
The Tips and Tricks Blog, which offers tips, tricks, and technical guidelines
The Database Tech Trends Blog, a continuing education blog about database technology trends
White papers that objectively describe database problems, and how to work them out
Testimonials from clients sharing how Dobler Consulting improved their business and saved money for them
Job openings, listing current company openings for Information Technology professionals
Newsletter archive that offers an array of Peter's articles and favorite topics on current issues in the database world
"We had a specific goal to achieve when we decided to rebrand the website," says Dobler. "We wanted to make the same information available to all readers, regardless of the device they use for reading. Now, when someone looks at our site from a cell phone or tablet, their view is a mobile or tablet-friendly version," tells Dobler. The traditional site is designed with large type, simple views, and easy navigation. The mobile and tablet view uses the same large type and simple view for readers to easily click on chosen links with "thumb-friendly" accuracy.
About Dobler Consulting
Dobler Consulting is a leading information technology and database services company that offers cutting edge technology and integration for their clients. Founded in 2000, the Tampa consulting firm delivers implementation expertise for Sybase, SQL Server and Oracle. Dobler Consulting has over 25 years of proven experience, working with their clients to improve database efficiencies and reduce costs. They are a Sybase System Integrator, SAP partner, and are part of the Microsoft Partner Program.
Dobler Consulting offers remote DBA support services to clients to cover all aspects of supporting Information Technology software applications. Their goal is to maximize the availability of clients' revenue-generating application systems, with skilled performance tuning and preventative maintenance.
Dobler Consulting serves local and southeast regional customers with their world class services and products. Visit us online at http://www.doblerconsulting.com, or contact us at 813 322 3240, or info(at)doblerconsulting(dot)com.