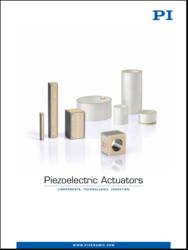 Auburn, MA (PRWEB) July 24, 2012
New PI Ceramic Piezoelectric Positioner Catalog Covers Bimorph Actuators, Long-Life Multilayer Actuators, Sub-Assemblies and a Tutorial on Piezo Physics
Extreme Piezo Lifetime: 100 Billion Cycles
Standard actuator products include traditional large-cross-section piezo stacks (for high-force applications) as well as the highly reliable compact low-voltage PICMA® multilayer actuators that completed more than 100 Billion cycles (100,000,000,000) in reliability tests conducted by NASA's Jet Propulsion Lab. These ceramic encapsulated actuators are now also available with a hermetically sealed metal case, for high-humidity and all-weather applications.
Multilayer Bimorph Actuators
A new manufacturing technique allows the production of multilayer bimorph bender actuators in many different shapes including disks with central hole. The advantage of the multilayer technology is the lower operating voltage, an advantage not only in medical applications.
Lead Free Piezo Actuators and Materials
New lead-free piezo actuators and high-linearity materials are also covered as well as electronic piezo drivers, controllers and charge amplifiers that increase the dynamic linearity of piezo operation.
Extensive Piezo Physics Tutorial
A new tutorial explains the manufacturing process, operation and applications of the different types of piezo actuators in detail.
Recent Expansion at PI Ceramic
PI Ceramic just completed its third recent expansion, adding 55,000 ft2 with a new building for manufacturing and R&D. With more than 200 employees and capability to process over 50 tons of piezo material per year, PI Ceramic as become the global leader in high-end piezo assemblies for actuator and sensor applications.
The piezo actuator catalog can be downloaded at
http://www.piceramic.com/piezo_news_more.php?newsid=21&onl_prw
Applications of Piezoelectric Positioners
Because of their high resolution force and speed, piezo ceramic actuators and positioners are used in applications from precision mechanical design (force generation, precision positioning) to bio-medical engineering, super-resolution microscopy and interferometry, fiber alignment, bio-photonics, aerospace, astronomy (steering mirrors) etc.
About PI / PI Ceramic
PI is a leading manufacturer of precision motion control equipment, piezo systems, piezo motors and actuators for semiconductor applications, photonics, bio-nano-technology and medical engineering. PI has been developing and manufacturing standard & custom precision products with piezoceramic and electromagnetic drives for 4 decades. The company has been ISO 9001 certified since 1994 and provides innovative, high-quality solutions for OEM and research. PI is present worldwide with eight subsidiaries, R&D / engineering on 3 continents and total staff of 700+
Contact
PI (Physik Instrumente) LP
16 Albert St.
Auburn, MA 01501
USA / Canada/Mexico: http://www.pi-usa.us,
Email: info(at)pi-usa(dot)us
Phone: East / Midwest: (508) 832-3456, West: (949) 679-9191
Follow PI on Twitter:
http://twitter.com/PI_Physik_Inst/