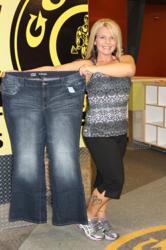 It's impossible not to be motivated when you have the kind of relationships I have found here, at Gold's Gym. The training staff and management continue to say, 'You look awesome. You're doing an amazing job!'
Grand Junction, CO (PRWEB) July 25, 2012
Social Media has the opportunity to change local perspective. While we read news stories from different parts of the nation and around the world, none are more inspirational than hometown successes. Blue Finn Creative Group, a Colorado marketing firm uses social media daily to convey individual business stories. Stories of success come at a high price. One Grand Junction woman has proven to pay that and more.
A Past You Can't Ignore
At a young age, the excuses for Lindsey Cotter's weight had started. She called it "genetics". Her father introduced her as "the chubby one". Her friends called her plain old "fat". And her favorite comment from people: "If she lost some weight, she'd be drop dead gorgeous." Her family always swept the big issues under the rug and this was exactly how Lindsey Cotter was living her life.
After the traumatic birth of her second child, which included an emergency C-section and quite possibly the scariest moment in Lindsey's life, depression began to creep in. Nightmares of losing her son or herself dying filled her dreams. It caused friction between Lindsey and her best friend, her brother John. Although amends were made with her brother, she was devastated when their relationship was cut short when he died.
Family Tragedies Continue
Her world came to an abrupt stop with one phone call explaining that he had died in a fatal car accident. The day John was ripped away from his family, Lindsey Cotter lost part of herself as well. She lost the will to live, not only for herself but also for her precious children. Her role as a wife and mother was in jeopardy. She lost the will to be Lindsey.
Just a little over a year from losing her brother, she received another phone call regarding her father. It was angina, arteries that were 93% plaque-filled that caused him to swerve off the road and roll his truck. Because of these tragedies in her life, Lindsey had so many fears to contend with. The deaths in her family made her afraid to lose anyone else and afraid to travel. She was even afraid to hear the phone ring. But hope was not lost and Lindsey Cotter found a grain of strength to make her next choice.
Gold's Gym Offers Hope
"Walking through those big doors of the Grand Junction Gold's Gym, I was terrified. Scared of what people might say to me; scared of how people might look at me," states Lindsey Cotter. Despite her fears and hesitation, she was greeted with smiles from the staff and the warmest smile of all was from her new personal trainer, Deb Leany. After seeing Deb, the small voice of inspiration inside of Lindsey said, "It's all going to be ok."
Lindsey Cotter had the will to change. She wanted this for herself and for her family. She knew her brother would be so proud of her and that kept her moving forward. She never quit. She never gave up on herself.
Gold's Gym Motivates for Success
She finally realized through all of her heartache that contrary to what others made her believe, she is worth it. It is okay to LIVE, to be happy and to feel good. It is okay to love yourself. Lindsey is often asked, "How do you stay motivated to keep coming back to Gold's Gym after so long?" And Lindsey's response is simple, "It's impossible not to be motivated when you have the kind of relationships I have found here, at Gold's Gym. The training staff and management continue to say, 'You look awesome. You're doing an amazing job!'" Those kinds of affirmation provides the encouragement she needs to keep going and keep fighting.
Lindsey Cotter Fights
One day she put on Facebook that today was her weigh-in. A dear friend responded; "Sounds like you're going to a fight." Lindsey responded with, "I am! I'm fighting for my life." She is choosing to fight for her life and we believe Lindsey Cotter is winning that fight and will continue to win because her journey continues!
Her fight has paid off also. Out of over 700 Gold's Gym locations in the United States, Lindsey Cotter has won Gold's Gym Most Inspirational Member of the Year. Because this award is on a national level, the Grand Junction Gold's Gym location believes that Lindsey should receive the highest commendation for her efforts.
A little over a year and half, Lindsey Cotter has dropped from 300 pounds to 176 pounds with 26 more to go. With 100% determination and dedication, she is filled with energy, hope, strength and confidence. This is the story Gold's Gym desires to tell for all those who let us.