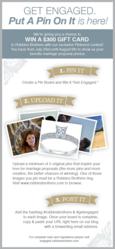 We encourage users to get really creative with their pin boards and show us exactly what inspires them when it comes to those four little words—'Will You Marry Me'
Los Angeles, CA (PRWEB) July 25, 2012
Robbins Brothers launches an exclusive Pinterest contest, Get Engaged: Put A Pin On It, this week to support its fresh television campaign which highlights up, close and personal the many ways women respond to "Will You Marry Me?" To enter the contest, create a Pin Board on Pinterest called "Get Engaged" and upload a minimum of five (5) pins that inspire your love for marriage proposals. Pins can include the future bride's reaction to the marriage proposal, a couple's engagement photos, proposal locations, candid shots or any other elements that make for a memorable occasion. One of the images you pin must be a Robbins Brothers ring (visit http://www.RobbinsBrothers.com to browse). Be sure to add the hashtags #robbinsbrothers and #getengaged to each image.
Pinterest lovers can submit their pin board URL and enter to win the grand prize of a $300 gift card from Robbins Brothers, as well as view the complete rules and regulations, by visiting the company's blog (engaged.robbinsbrothers.com) from July 23 until August 6. One random winner with the most creative board will be announced within a week after the contest deadline.
"We're very excited about this contest as everyone has a unique interpretation of the marriage proposal and how the woman will react, whether it's jumping for joy, fainting, covering her face or simply speechless," said Diane Ferraro, director of brand experience and marketing for Robbins Brothers. "We encourage users to get really creative with their pin boards and show us exactly what inspires them when it comes to those four little words—'Will You Marry Me' "