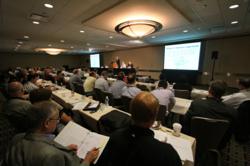 Boston, MA (PRWEB) July 25, 2012
The International District Energy Association (IDEA) announced the release of its newest publication, Community Energy: Planning, Development and Delivery, which aims to support mayors, planners, community leaders, real estate developers and economic development officials who are interested in planning more sustainable urban energy infrastructure, creating community energy master plans and implementing district energy systems in cities, communities and towns.
The new guidebook will provide an overview of the local energy project development process, in a form that is accessible to lay readers, to assist them in making informed decisions on the analysis, planning, development and delivery of district energy systems.
IDEA, a 103-year old non-profit industry trade association based outside of Boston, Massachusetts, engaged UK-based district energy specialist Michael King, author of the UK guidebook by the same name, to revise Community Energy: Planning, Development and Delivery for the US market to reflect relevant national energy and environmental policies and incorporate current U.S. market conditions and policy drivers on a federal, state and local level.
According to IDEA President & CEO Rob Thornton, "We anticipate that the Community Energy Guide will respond to a rapidly growing level of interest in smarter energy solutions sought by cities, communities, state and local energy offices all across the U.S. Existing tools in the market are generally focused on engineers responsible for design of systems. As such, they are highly technical and not easily understood by the range of key decision makers – civic leaders, town and city planners, treasurers and finance directors, building owners and real estate developers - who have a vital role in advancing and participating in the process of planning, development and delivery of sustainable and reliable district energy systems."
Community Energy: Planning, Development and Delivery is designed to equip key decision makers with the knowledge and understanding to make confident and informed decisions on energy, environmental and economic matters relevant to local energy implementation. IDEA will disseminate this best practice approach across the U.S. in conjunction with partner organizations and agencies to better inform the marketplace, build greater awareness of the advantages of district energy, CHP and waste energy recovery, and engage public/private partnerships in industry growth.
Michael King, author of Community Energy: Planning, Development and Delivery, stated: "District energy can provide towns and cities with clean, local and affordable energy supplies that improve their economic resilience and enhance their local environment. This publication was written to help civic leaders, planners, property owners and developers secure these benefits for residents and businesses alike by providing guidance on identifying, planning and developing district energy projects. It is based on the experience of developing real projects in the UK where the original version is now used by municipalities as the blueprint for delivering their own projects. The original UK guide has now been tailored for the American market with the help of industry experts from the US and internationally with the intention of achieving the same impact here."
On Saturday June 30, IDEA hosted a workshop around the content of Community Energy: Planning, Development and Delivery. This one-day workshop featured experienced urban planners from San Francisco, Seattle and Portland as well as city officials and industry leaders from around the United States to discuss best practices and to review a step-by-step approach to develop a successful community energy plan and deploy district energy. For more information, please visit http://www.districtenergy.org/CEDG.
IDEA gratefully acknowledges the sponsoring companies who provided financial support and editorial contributions to the U.S. Guide: Affiliated Engineers, Inc.; Enwave Energy Corporation; Ramboll Energy; Solar Turbines; Veolia Energy; Bingham Greenebaum Doll LLP; COWI; Ever-Green Energy; Johnson Controls; Seattle Steam; Sega, Inc.; Spence Engineering; Thermo Systems; and Trane.
The International District Energy Association (IDEA) is a nonprofit 501(c) 6 industry trade association founded in 1909 and governed by a 22-member Board of Directors. IDEA represents approximately 1600 members who are district heating and cooling executives, managers, engineers, consultants and equipment suppliers from 26 countries. Association members operate district energy systems owned by utilities, municipalities, hospitals, military bases and airports throughout North America and around the world. The largest district heating system in the United States, owned by Consolidated Edison of New York, is an IDEA member, as is the nation's largest district cooling system, Thermal Chicago. Visit http://www.districtenergy.org for more information.