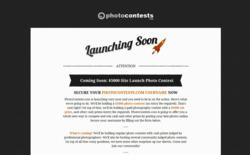 We're offering thousands of dollars in cash prizes...
Houston, TX (PRWEB) July 25, 2012
Photo Contests online are the new way for professional and amateur photographers to win thousands of dollars in easy-to-enter web-based photo competitions. PhotoContests.com is coming soon and photographers are encouraged to register NOW to secure their place on this exciting new website.
"Our new website, PhotoContests.com, is launching soon and we know that photographers from all backgrounds will want to get in on the action," said Justin Bowen, founder and CEO of PhotoContests.com. "We're offering thousands of dollars in cash prizes for the best entries which will be judged by some of the country's top professional photographers."
This revolutionary website lets photographers compete to win cash and other prizes by posting their work online. Cash prizes start at $1000 and there is no fee to enter. Contestants can also choose to pay a fee to enter contests offering up to an incredible $5000 in cash.
Photo Contests is not just a one-off competition. The website will be holding regular contests that will be judged by professional photographers. The site will also hold contests where entrants' work will be moderated by the PhotoContests.com community.
PhotoContests.com is launching soon and would be winners are welcome to sign up now to be among the first to take part in this groundbreaking contest community. By registering to enter now, photographers will be able to start receiving more details about the contests and how to enter.
To register a username and be among the first to enter these unbeatable competitions, photographers simply need to visit http://photocontests.com/ to get started.