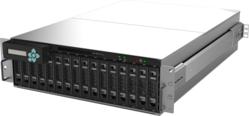 The Nucleus RM Capture 16X3 offers the best platform for today's cutting-edge network monitoring solutions.
Nashua, NH (PRWEB) July 25, 2012
NextComputing, manufacturer of high-performance and small form-factor computing systems, announces a new platform for high-throughput data recording applications. Based on the company's Nucleus RM family of compact and customizable rackmount computers, the Nucleus RM Capture 16X3 provides very high sustained write-to-disk rates for solutions such as network forensics, application performance optimization, and deep packet analysis.
The need to capture and analyze high-bandwidth network traffic has been increasing as service providers and large enterprises struggle to keep up with the influx of data created by online video, mobile data usage, and the proliferation of social media. Solution providers at the forefront of this trend realize that more data means increased strains on systems that monitor, gather, and disseminate this information. However, many of these OEMs lack a reliable platform to deploy their next-generation network monitoring tools. Typical server hardware falls short in terms of performance, flexibility, and customization options that allow them to offer differentiated solutions. In addition, most solution providers are primarily focused on developing their software applications and lack the resources and experience to properly handle hardware within their organizations.
The Nucleus RM Capture 16X3 offers the best platform for today's cutting-edge network monitoring solutions, combined with NextComputing's solution-oriented engineering services and customization options. This latest product builds on the capabilities of the company's previous rack-based capture systems by adding more storage capacity in the form of sixteen (16) front-access removable 3.5" hard drives. These drives are available in either SATA or SAS up to 3TB each for up to 48TB total capacity. Additionally, the system has two more rear-access removable 2.5" hard drives, available as SATA, SAS, or SSD up to 1TB each. These independent drives allow operating systems and applications to be installed on a separate volume from the high-speed storage array, improving reliability and enabling maximum storage by utilizing all sixteen front-access drives.
The Nucleus RM Capture 16X3 offers the fastest possible stream-to-disk performance by leveraging Intel® Xeon® E5-2600 series processors and the high-speed PCI Express 3.0 bus with direct access to processing and memory using Intel's QuickPath™ Interconnect (QPI). This allows the system to support very fast data interfaces such as multiple 10G Ethernet ports or next-generation 40G capture devices without the performance bottlenecks found in previous generation architectures.
Nucleus RM Capture 16X3 features:

(16) front-access removable 3.5" SATA or SAS drives
(2) rear-access removable 2.5" drives, intended for easy service of system and/or application drives
Up to (6) full-length, full-height PCI Express expansion slots for network capture cards or high-performance RAID storage controller cards
Two 8-core Intel Xeon E5-2600 series processors
Up to 512GB DDR3 ECC memory
1300W 2+1 redundant power supply, either AC 110/220V or 48VDC input
3U rack height, 25.5" deep
Front-facing DVD or BluRay optical drive
Optional "swivel-out" system monitoring and control LCD panel
Customizable front panel - drive bays can be replaced by custom I/O panels allowing front-facing access to specialized ports
Branding options including customer logos and colors
The Nucleus RM Capture 16X3 is available now from NextComputing and its authorized resellers. Please call +1-603-886-3874 or email Sales (at) NextComputing (dot) com for more information.
About NextComputing
Based in Nashua, NH, NextComputing is a unique technology company specializing in extreme-performance portables and small form-factor servers. Its open-standards, modular systems are used throughout many industries for a range of professional applications including high-throughput data streaming, live broadcasting, and high-end application demonstration. Visit http://www.nextcomputing.com for more information.
Copyright legal disclaimer: All trademarks contained herein are property of their respective copyright holders.
###