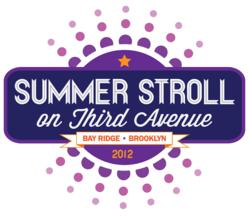 It's a great opportunity for the community to come together and support one another and have some fun at the same time
Brooklyn, NY (PRWEB) July 25, 2012
New York State Senator Martin Golden, New York City Councilman Vincent Gentile, the Merchants of 3rd Avenue and the small businesses and residents of Bay Ridge Brooklyn are all gearing up for the second night of Summer Stroll - this Friday July 27.
Last Friday night, despite heavy rain conditions all day and into the early evening, Summer Stroll still saw thousands of people participating, and strolling.
"This week, with better weather expected, we're anticipating an even larger turnout," said Summer Stroll organizer and The BookMark Shoppe owner Bina Valenzano.
Numerous activities will take place on each block with a different theme. Shoot some pool at Status Q or take a swing at golf with the Brooklyn Golf Center. Shoot some hoops with the Brooklyn Nets and the Brooklyn Cyclones are handing out giveaways. Watch the Brooklyn Dance Studio perform. Going In Style will be showing a movie with free popcorn. Debra Rose Beauty Essentials will be talking beauty secrets. Some other activities include a pottery-making demo, photography lessons on a quick photoshoot, and a showcase of talented kids performing Broadway style song and dance routines.
"It's a great opportunity for the community to come together and support one another and have some fun at the same time," said Merchants of 3rd Avenue President and New York Attorney Robert Howe.
Sponsoring the event will be Senator Golden, Flushing Bank, Kaleidoscope Toy Store, Northfield Bank, TLC Reverse Programs, Jabour Realty Company, Harbour Abstract Agency, Jovi Brooklyn Social and McLaughlin Funeral Home.
The Summer Stroll project will take place on these three remaining Friday nights: July 27 and August 10 & 17 from 6:00 to 10:30 PM. It will take place on 3rd avenue in Brooklyn between 82-89 street
Founded in 1933, the Merchants of Third Avenue Civic Improvement Association is a non-profit organization that covers the commercial corridor of Third Avenue in Bay Ridge, Brooklyn from 65th to 101st Street. The 36 block strip is home to over 300 businesses employing over one thousand people.
Summer Streets is a project of the New York City Department of Transportation. DOT is joined by several other City agencies and the Mayor's Fund to Advance New York City to present Summer Streets.