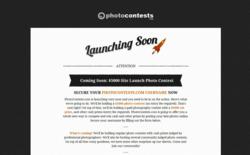 Entering our Photo Contests could be a career-changing move
Houston, TX (PRWEB) July 27, 2012
Photography Contests online are the new way for professional and amateur photographers to win big in a revolutionary new web-based competition. PhotoContests.com allows photographers from all backgrounds to showcase their work and win thousands of dollars in prizes for the best entries.
"This is a fantastic opportunity for professional and budding photographers to really get noticed," said Justin Bowen, founder and CEO of PhotoContests.com. "Not only can photographers win a range of cash and other prizes, they can get their work out there for everyone to see. Entering our Photo Contests could be a career-changing move for thousands of talented photographers."
PhotoContests.com is launching soon and would be winners of these Photo Contests are being encouraged to register now with the website to be able to be among the first to enter and win these amazing prizes.
This new website allows photographers to enter their work in a wide range of photographic categories, so no matter what the individual photographer's subject or style is, there are prizes to be won.
Entries on PhotoContests.com are judged by some of the world's leading professional photographers. Entry is free with rewards of up to $1000. Those wishing to win big can pay a nominal fee to enter cash prizes of up to $5000.
The website is also an excellent opportunity for amateur photographers to get noticed. The site will attract visits from photographers worldwide, so it is the perfect place for photographers to post their work.
PhotoContests.com is coming soon, so anyone wishing to be among the first to enter and win prizes simply needs to visit http://photocontests.com/ to be a part of this new online community and enter these unbeatable competitions.