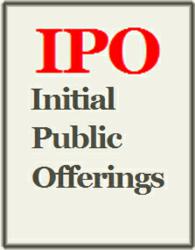 Los Angeles, CA (PRWEB) July 24, 2012
The IPO news site, one of the industry leaders in providing up to date IPO news and information pertaining to IPO (initial public offering) filings and taking companies public, is excited in announcing its newly formed Dailymotion video page, which can be found at:
http://www.dailymotion.com/IPOInitialPublicOfferings
With the arrival of many social networking sites now popping up on the internet, video distribution has become a prominent outlet for news and information for individuals and business alike. As a result, Dailymotion has become one of the premiere video sharing sites on the World Wide Web. The French based video sharing site which was originally founded in March of 2005 since then has become the 2nd largest video sharing site on the internet, only behind YouTube. You can find many videos regarding the IPO process. If you would like to receive a white paper discussing an initial public offering you can go to http://www.ipoinitialpublicofferings.com
The Initial Public Offerings website looks to furnish IPO related news and information in video format to any and all individuals or business that wish to know more about the intricacies of taking a company public or how to do an IPO. Initial Public Offerings Business Development Manager Bill Truman believes information presented in video format allows for information to be presented in a quick and efficient manner. "We look forward to alleviating the daunting task involved with researching information pertaining to the IPO process, through these informative videos we hope to provide businesses and individuals with an easier understanding of the steps involved when taking a business public."
IPO Initial Public Offerings is a provider of news and information with regards to Initial Public Offering filings and also assisting private and startup companies with the going public process. Any company can become publicly traded in the USA, including startups. Going public can bring about many advantages to aid business with their continued corporate development.
Additional benefits to "Going Public" include:

Liquidity
Greater Public Awareness
Increased notoriety among competitors
Increased company Valuation
Investor Exit Strategy
Stock Options
Contact Person: Bill Truman
IPO Initial Public Offerings
We Take Companies Public Including Start Up Companies
Email: information(at)IPOinitialpublicofferings(dot)com
Website: http://www.ipoinitialpublicofferings.com
Telephone: 310-888-1195