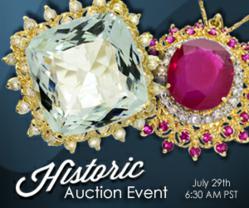 "A loose diamond of this cut, clarity and size is a rare find in the retail environment," stated auctioneer Jeff Moore
Tehachapi, CA (PRWEB) July 25, 2012
The auction will showcase items selected for their enduring and intrinsic values with something for every budget. The luxury merchandise offered is in pristine condition with some exclusive timepieces that are satisfaction guaranteed pre-owned.
A large collection of diamond jewelry and loose diamond gemstones will be featured in this auction. The headline diamond lot is a gorgeous 6.40CT Princess Cut Diamond Gemstone. The stone is multifaceted with a cut grade of 9-Excellent. The estimated retail replacement value on this piece is $158,405. "A loose diamond of this cut, clarity and size is a rare find in the retail environment," stated auctioneer Jeff Moore.
Offered for auction in the timepiece category is a Women's Cartier Watch. This 2000 Panthere was previously owned and is one numerous other Cartier's and Rolex watches in the auction catalog. The watch is stainless steel with white square face and elegant roman numeral lettering. In a addition to Cartier other quality timepieces include a Men's Rolex Perpetual Datejust President Gold Watch. The watch is a stunning example of Rolex's classic design with a gold face and band.
For sports enthusiasts a rare piece of baseball memorabilia to be auctioned is a 1966 Topps #50 Mickey Mantle baseball card. Mantle is widely as one of the greatest players in baseball history and one of the best switch hitters of all time. He played in twenty All-Star games and twelve World Series. The card is graded PSM Excellent-Mint 6.5.
In addition to the luxury items being presented, the auction house is also featuring a collection of gold coins. A unique coin offered is a 1908 $20 U.S. Saint Gaudens Gold Coin. The coins were minted from 1907-1933 and are also referred to as the "Double Eagle" along with the Liberty Gold coins because of the $20 denomination. The coin was commissioned by President Roosevelt in 1906 to famed sculptor Augustus Saint-Gaudens to create a gold coin reminiscent of coins used in Ancient Greece and is one of the most collectible coins created.
Additional auction highlights include a 1875-CC $10 Liberty Gold Coin, Fully Restored Antique Kid Pedal Car, 5 Cent c1931 Mills Novelty War Eagle Slot Machine, Coach Purses, and more.
To view this auction please click the link below
Historic Auction Government Assets Sale - Sunday, July 29, 2012 | 6:30 AM Pacific
http://bit.ly/M5UAA6
For additional information on any lot in the sale, call Debbie on 661-823-1543 or e-mail info(at)governmentauction(dot)com.
About Government Auction
Government Auction was founded as a general resource to buying assets such as jewelry , gemstones, memorabilia, collectibles, art, prints, antiques, and vehicles throughout the United States. Most people don't realize there are hundreds of thousands of assets and valuables that are seized everyday and made available through various resources. Many of these confiscated assets are passed on to us for immediate liquidation. Some examples of how we acquire requisitioned objects are from bankruptcies, IRS, estate sales, trusts, and more.
Government Auction is the largest company of its kind and the only one in the United States that works closely with these agencies to acquire literally thousands of assets and confiscated goods, such as Ruby Gemstones, Sapphire Rings, and Men's President Rolex Watches, Mercedes Benz, and Gold Coins. In most cases we acquire these treasures at a fraction of their actual retail value. Once acquired these items are liquidated through the auction site. Clients are made up of just the everyday person who wants to buy a Diamond Bracelet, Pearl Strand Necklace, Sterling Silver Pink Sapphire Earrings, Oval Cut Emerald Gemstone Parcel, Remington Bronze Reissue at an unbeatable price.
All assets that we offer are normally at a 30% - 60% savings to the client. What this means is consumers are making a good investment immediately. By purchasing assets cheaply people can make a sizeable profit if they decide to resell it later on.
Government Auction is one of the most reputable jewelry and gem clearinghouse company in the U.S., with over 20 years of experience.