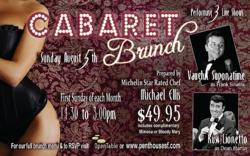 This is brunch will be a one-of-a-kind brunch experience
San Francisco, CA (PRWEB) July 25, 2012
The most opulent and well-respected name in adult nightlife in San Francisco, Penthouse Club and Steakhouse is now offering Sunday brunch the first Sunday of each month starting August 5 from 11:30 am until 3 pm. Enjoy delicious cuisine prepared by Michelin Star rated chef Michael Ellis and whimsical cabaret performances by Rat Pack impersonators.
"This is brunch will be a one-of-a-kind brunch experience," said Penthouse rep Axel Sang. "Not only will the atmosphere be sophisticated and capricious, the dining selections are prepared by Chef Michael Ellis who received the highest culinary accolade: a Michelin Star rating. We provide all of these elements for a reasonable price."
Guests have a wealth of entertainment and satisfaction to look forward to in Penthouse's "Cabaret Brunch". World-class, all-inclusive menus coupled with live, blast-from-the-past performances make for what promises to be the most stand-out, original and entertaining brunch experience in the San Francisco Bay Area.
Acclaimed Frank Sinatra and Dean Martin impersonators Vaughn Suponatime and Russ Loniello will bring guests back to the elegant, old time feel of cabaret with their smooth, true-to-life voices, wit and charm.
Patrons will have access to an all-inclusive menu including made to order omelettes, cherry wood smoked bacon, smoked salmon, a roast beef carving station and a sushi bar just to name a few. The brunch also comes with a complimentary mimosa or Bloody Mary cocktail.
VIP bottle specials are also available for the Cabaret Brunch and reservations can be made at http://www.penthousesf.com or by calling 415-391-2800. The full brunch menu is provided here.
About Penthouse Club and Steakhouse San Francisco
The newly opened Penthouse Club and Steakhouse takes upscale adult nightlife in San Francisco to a new level with 15,000 feet of pure luxury. Featuring the top exotic dancers from around the country, the Club will combine the best in San Francisco adult entertainment with some of the finest dining in the City—including mouthwatering steaks, seafood, and pastas made from the highest quality ingredients. The San Francisco gentlemen's club proudly boasts the largest champagne cellar in northern California.