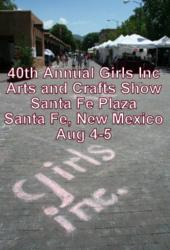 Santa Fe, NM (PRWEB) July 24, 2012
The Girls Inc. of Santa Fe's 40th Annual Arts and Crafts Show is set for Saturday, August 4th and Sunday, August 5th in downtown Santa Fe, New Mexico on the Santa Fe Plaza. Visitors will find a wide range of work by professional fine artists and crafts people: fiber art, jewelry, painting, pottery, sculpture, metal work, wood work, photography, specialty foods, and much more. This event is featured on the SantaFe.com event calendar.
Proceeds from artists' booth fees benefit Girls Inc. of Santa Fe, a 501(c) (3) non-profit organization. The organization's primary mission is to inspire all girls to be strong, smart, and bold. No commission is collected from artists' sales.
Girls Inc. of Santa Fe encourages both locals and visitors to Santa Fe to support in helping make this year's Girls Inc. Arts and Crafts Show as successful as possible. This event is the largest single fundraising event for Girls Inc. of Santa Fe and a successful event enables the organization to continue to provide programming which builds self-esteem, fosters creativity, and promotes critical thinking skills for girls. No other youth agency in Santa Fe offers such comprehensive programming designed specifically for girls. One of the primary goals of the organization in promoting this unique event to the local community is increasing the number of New Mexicans that attend the show.
Special Features Showcases at the 2012 Event:
Free Filtered Water Provided By Good Water
With the effort to go "green" during the Arts and Crafts Show a goal of the event, Good Water Company has become a sponsor and will be providing FREE chilled water at a kiosk on the corner of Lincoln and Palace. The organization encourages everyone to help reduce plastic bottle waste by bringing their own refillable bottle to the event. Girls Inc. of Santa Fe will be selling BPA-free water bottles during the festivities for $7 to also help enhance the events fund raising success. For event visitors convenience paper cones are also available at the kiosk.
The Kids' Creation Station
Girls Inc. is hosting the Kids' Creation Station. The organization is collaborating with Fine Art for Children and Teens and the Children's Museum to make this special feature of the event come together. Located on North Lincoln, this will be a place for youth and families to make their own art, making this year's show even more family-friendly! Activities will include various art projects, a magnet table, face painting, hula hoops (for playing and for making), street chalk art and more! This is definitely a great event for families as well as arts and crafts patrons.
Food Court
This year's Food Court will feature an array of different food trucks. Including:

Barbwire McGuires (pork/beef po'boys, ribs, turkey legs, BBQ nachos, more)
Firenze Wood Fired Pizza
Hawaiian Shave Ice
Mother Truckin' Gourmet (salads, sandwiches)
Chavez Green Chili (fajitas, quesadillas, taquitos, Frito Pie, more)
Cold Stone Creamery
La Vida Mocha (gourmet coffees)
Hot Stuff Café (burritos, tacos, burgers)
The Original Hamburger
88 National At-Risk Youth experts named Girls Inc. one of 9 outstanding non-profits * (2011)

Several reasons to support the 40th Annual Girls Inc. Arts and Crafts Show are as follow:
Long-running Arts & Culture event: 2012 marks 40 years at the Santa Fe Plaza
Award-winning and nationally recognized event (Sunshine Magazine and Art Fair Source Book)
Third largest Plaza event: Santa Fe Police estimate 25,000–30,000 people visit the show
Benefits the lives of local youth & families: 18% of Girls Inc. revenue is from this show
Benefits local artists and our creative community: 60% of artists are from New Mexico; of these, nearly half are from Santa Fe
Benefits Local Economy:
o All vendors' sales contribute to City gross receipts tax
o Girls Inc. pays the City to use the Plaza
o Artists from Santa Fe spend an average $72 each in town that weekend: $3,888 (54 artists)
o Artists from other parts of NM & out-of-state spend an average $515 each: $80,340 (156 artists)

Creates community spirit with more than 175 volunteers involved each year
All work is original and handcrafted by vendors – no factory-made items
Entry into the show is decided by a jury of community members who are artists, arts dealers, art buyers, etc.
The 40th Annual Girls Inc. Arts and Crafts Show is generously sponsored by Hutton Broadcasting and Santafe.com.
Contact:
Art & Craft Show contact is:
Melissa Glick
Development & Events Coordinator
Acshow at girlsincofsantafe dot org
Media contact is:
Alexis Brown
Director of Development & Communications
Abrown at girlsincofsantafe dot org
About SantaFe.com
SantaFe.com provides locals and visitors to Santa Fe alike the most current interactive platform for events, music, arts, business, dining and lifestyle. SantaFe.com is a division of Hutton Broadcasting, located at 2502 C. Camino Entrada, Santa Fe, NM 87507
Contact Information:
Scott Hutton
SantaFe.com / Hutton Broadcasting
http://www.santafe.com
(505) 471-1067 (Media inquiries only, please)