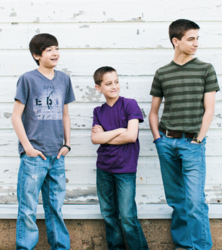 Kickstarter gives us a chance to produce and promote our album on a larger scale and remain fully independent...
Lebanon, NJ (PRWEB) July 25, 2012
When the Sleepy Man Banjo Boys' debut album 'America's Music' was released in 2011, the band's strong YouTube following propelled their music up the Billboard Bluegrass Album Chart. Now, in advance of the release of their newest project, brothers Jonny, Robbie, and Tommy Mizzone are turning to another popular site to carry their sound to new audiences: Kickstarter.com
The Sleepy Man Banjo Boys announced the launch of their first Kickstarter campaign to promote their latest work 'The Farthest Horizon.' With a successful campaign, the boys plan to use the proceeds to help expand their distribution and promotional reach while remaining independent artists. Backers of the project are offered a range of perks from pre-release downloads, autographed merchandise, and even a professional custom made Huber Banjo.
Brothers Jonny, Robbie, and Tommy Mizzone became a viral sensation last winter sparking a whirlwind year that would include performances on The Late Show with David Letterman, NBC's Today Show, and the Grand Ole Opry. They were also named official Martin Guitar Ambassadors by Martin Guitar, an honor reserved for a select few artists.
The project is currently 24% funded and available at - http://www.kickstarter.com/projects/2003152574/the-farthest-horizon-album
Social Info:
YouTube: http://www.youtube.com/sleepymanbanjoboys
Facebook: http://www.facebook.com/sleepymanbanjo
Twitter: @sleepymanbanjo
Web: http://www.sleepymanbanjoboys.com/