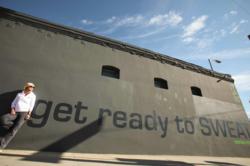 Venice, CA (PRWEB) July 25, 2012
For 11 days leading up to YAS's 11th Anniversary on Saturday, August 4th, YAS fans can score amazing prizes during the "11 Days of YAS" giveaway.
Founded in 2001 by yoga rebel Kimberly Fowler, YAS Fitness Centers has grown from a single studio in Venice Beach to four amazing locations also in Silverlake, East Costa Mesa, and Downtown LA.
A new surprise giveaway featuring YAS merchandise and or classes will roll out each day via Twitter and YAS's Facebook group.

Day 1, follow @YASfitness and RT for a chance to win a Yoga Starter Kit
Day 2: Score a YAS Yoga Mat by tweeting your favorite yoga pose.
Day 3: Choose any YAS Wear item by tweeting a pic of your favorite YAS Wear.
Day 4: Check-in and Tweet YAS while at any of their locations and win a $50 gift card.
Day 5: Have you tried YAS's RIPPED Yoga class yet? RT for 2 free classes.
Day 6: Tweet an idea or a workout and win a YAS gift card worth $75.
Day 7: Who's your favorite YAS instructor? Reply for a yoga class with them.
Day 8: Win 3 free classes by naming 3 of YAS's locations!
Day 9: What would you do with a $75 YAS gift card? Tweet for 50 YAS dollars.
Day 10: Tote a YAS Yoga & Spinning Bag if you RT and like YAS on Facebook.
Day 11: Happy Anniversary! The chosen winner who tweets why they love YAS so much will win 11 free classes, a Yoga Starter Kit, and YAS Wear outfit!
On Saturday's anniversary, anyone who joins the YAS Facebook group or follows YAS on Twitter is invited to celebrate at YAS Venice and Silverlake with a free class at 6pm (first come, first serve). And as a bonus giveaway, anyone who takes 11 classes during the 11 Days of YAS will be entered to win 3 months of free classes and head to toe YAS wear.
Twitter: Contestants must follow YAS on Twitter, and depending on the day's giveaway, either retweet day's tweet and or answer that day's question. Winners must be 18 years or older and will be announced the following day. Winner can only win once during days 1-10 but can reenter on day 11.
Facebook Group: Contestants must join YAS's Facebook Group and may enter giveaways once approved into the group. Winner can only win once during days 1-10 but can reenter on day 11.
Pick up amazing yoga swag on Twitter #11daysofYAS or through their Facebook Group. To learn more about Kimberly Fowler and YAS, visit to http://www.go2yas.com.
###
About YAS
Founded in 2001 by Kimberly Fowler, YAS Fitness Center was the first studio dedicated to the combination of spinning and yoga, sparking the yoga hybrid movement that remains today's biggest fitness trend. YAS attracts strong and capable clients seeking to take their fitness to new levels. With locations in Venice, Silverlake, East Costa Mesa, and Downtown LA, YAS is a place to come together with like-minded people for hard work and fun. Kimberly's pioneering one-hour yoga class, YOGA for ATHLETES® integrates movement, strength, and breath work to help athletes excel, no matter their sport or ability level. Kimberly's bestselling practical guide to yoga, The No OM Zone, is available at all YAS Fitness Centers, as are her three DVDs and celebrated YAS yoga and sportswear line. YAS offers comprehensive teacher training based in Kimberly's original yoga hybrid philosophy.