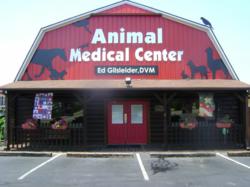 I always knew I wanted to be a veterinarian," Dr. Gilsleider says, "and now looking back, I wouldn't have changed a thing.
Claremore, OK (PRWEB) July 25, 2012
After growing up in New Jersey, Dr. Gilsleider migrated to the Midwest where he graduated from the Kansas State University College of Veterinary Medicine, Manhattan, KS, in 1982. Due to his love of the Midwest and his passion for horses, he set up his practice in the small town of Claremore, Oklahoma (famous for native son, Will Rogers) where he has spent his entire career.
At the outset, he had his eye focused on horses. For a number of years, he was the mobile vet traveling from ranch to ranch tending to his ever-growing equine practice. However, through the years, an evolution took place. The veterinarian's favorite saying to his team was, "Never say never." Translated, that meant whatever came in the door, he would agree to treat.
That adventurous statement has led to a practice that is widely diversified. Dr. Gilsleider has worked with circuses, wildlife preserves, and zoos. Add to that list ostrich and alpaca ranches, just to name a few. Noted for his work with ostriches, he has lectured across the U.S. and overseas.
The doctor's interest in animals dates from his childhood when he was given broad parameters by his parents to fill part of the family basement with bird cages (finches and parakeets), small animal cages (gerbils and hamsters), and aquariums (one for fish; one for turtles). From there he transported his birds to a backyard walk-in aviary that he built himself. During the New Jersey winters, he simply covered it with plastic and added heat lamps.
His part-time work with a local veterinarian, and later at a horse-breeding farm, simply solidified his intense love for and fascination with animals. "I always knew I wanted to be a veterinarian," Dr. Gilsleider says, "and now looking back, I wouldn't have changed a thing."
About
Dr. Gilsleider graduated from Kansas State University in 1978 with a bachelor's degree in Agriculture/Animal Science. In 1982, he received his Doctor of Veterinary Medicine degree, also from Kansas State. Dr. Gilsleider is a published author of numerous articles in lay journals, veterinary journals, and texts. He has lectured to veterinarians across America and abroad. Dr. Gilsleider has pioneered several orthopedic procedures to correct leg deformities in ratites (ostriches, emu and rhea). Since then, these techniques are used widely in many other species. His practice is located in Claremore, OK, the community where he and his wife, Lisa, have lived for 30 years. The couple has four adult children, and four grandchildren and one on the way.
Contact:
Animal Medical Center
1711 North Lynn Riggs Blvd.
Claremore, Oklahoma 74017