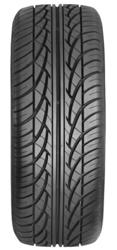 These great lines combine quality and long lasting performance with a value price that dealers can market with confidence and drivers can ride on with peace of mind.
Palm Beach Gardens, Fla. (PRWEB) July 25, 2012
TBC Wholesale Group is expanding its fall line-up with the rollout of an additional 13 new sizes to the Doral SDL-A and Sumic GTA All Season Performance lines. Additionally, there is a new 45,000 mile limited treadwear warranty on these high quality, performance engineered tires. The new sizes will be available this fall with initial availability in October 2012.
"Dealers and consumers have come to know and trust the high value proposition of this great line, which is designed and engineered in Japan and manufactured by Sumitomo Rubber Industries," said Jon Vance, Director of Consumer Product Marketing for TBC Wholesale. "As the exclusive marketer and distributor of this line in North America, we are excited to offer this expanded portfolio to our consumers."
The new sizes cover a variety of popular late-model performance sedan & crossover fitments and brings the line to 41 total sizes in S,T,H & V speed ratings, giving the Doral SDL-A and Sumic GTA superior size coverage in the fast growing all-season, value performance segment.
"These size and warranty enhancements are in recognition of the outstanding performance and value that the Doral SDL-A and Sumic GTA lines offer both tire dealers and consumers," said Vance. "These great lines combine Sumitomo Rubber technology, quality and long lasting performance with a value price that dealers can market with confidence and drivers can ride on with the peace of mind that comes with making a smart decision. And it's all backed with the service and commitment of TBC Wholesale."
For more information contact TBC Wholesale Group at 800-238-6469.
ABOUT TBC WHOLESALE GROUP
The TBC Corporation's ("TBC") Wholesale Group, is one of the world's largest marketers of private brand tires. Its representing thirteen powerful tire brands are well known and respected throughout the industry. TBC Corporation (TBC) is one of the nation's largest marketers of automotive replacement tires through a multi-channel strategy. TBC is headquartered in Palm Beach Gardens, Florida.
The TBC Wholesale Group consists of TBC Brands, Treadways, Carroll Tire Company, TBC International, TBC Latin America, and TBC de Mexico. Each entity is a wholesale supplier to independent regional tire retailers and distributors throughout the U.S., Canada, Mexico, Central and South America, Europe and the Middle East. Additionally, TBC's Retail Group operates more than 2700 franchised and company operated tire and automotive service centers under the brands Tire Kingdom®, Merchant's Tire & Auto Centers®, NTB®-National Tire & Battery®, Big O Tires®, and Midas®.