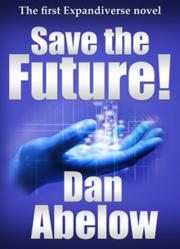 These five free eBook distribution tests are fascinating. The digital world is accelerating. It might be easier to launch a free eBook than ever before.
Orlando, FL (PRWEB) July 25, 2012
Dan Abelow today announced the launch of the first Expandiverse™ serial novel, Save the Future!, set 25 years from today. Its fully digital world leaps to life so readers can experience the middle of this century. Like Jules Verne striking ideas are presented but many of them are not science fiction. They are within reach of those who embrace this new future because Abelow's 1,400 page patent filing describes how Expandiverse Technology might build the first fully realized digital reality, a digital world that can stand next to the physical world.
It is 2036. The Earth has become one digital room, an Expandiverse with shared planetary life spaces, global presences and multiple identities. That world is threatened by Dominants who introduce new types of digital governances and identity controls. At the same time, Sovereigns of the past attempt to preserve their political and economic rule. However, the human spirit has found a home in the Expandiverse with digital Independents who fight to build a future based on freedom and universal prosperity.
Decades ago, in his early writing, Abelow became a professional ghostwriter / collaborator / contract author. Five of these books were published including two that were sold at auction by a literary agent, and two that were million-copy bestsellers.
As an inventor Abelow's previous patents are licensed by over 400 corporations that include Apple, Google, Microsoft, Samsung Electronics and many others.
Abelow's Expandiverse technology was conceived in 2007. The constant use of digital devices, screens and networks is leading us to build a fully realized digital Earth. By mid-century, humanity will live and work together in profound new digital ways.
Abelow's mission is to fill the R&D hole of 20 to 50 years out, the future that was abandoned when everyone's focus shifted to the disruptive quick wins of the next 3 to 5 years. Now an anxiety epidemic is sweeping millions as an avalanche of low paying jobs threatens to replace the future prosperity of the middle class and their children.
The decades between 2030 and 2060 might turn into the most important R&D decision facing this generation and its children. That will be the peak decades of today's children's lives, when they run the world – a world that is turning fully digital. But what will it do?
Abelow's Expandiverse Technology envisions networks that deliver human success as "active knowledge" with new advances flowing worldwide to everyone. Anyone may enjoy being global and performing at the highest levels known. For the first time in history, we might consider societies in which everyone can succeed, inverting the traditional pyramid of power and wealth – without attacking those at the top because the Expandiverse will enable more and more people to rise to their full potential.
Save the Future! was made a free eBook in the hope of reaching large audiences with new opportunities for these decades. A new website, Expandiverse.com, offers Save the Future! in formats for all major eReaders, tablets and PC's. It is testing six strategies to distribute this widely:

Free republishing: Anyone can use a simple embed code to post a live copy of Save the Future! on their blog, website, Intranet and eNewsletter. The embed code is available from an "Embed" button at the top right of every posted copy, so anyone else can add this novel for free, for their audiences. Every republished copy is self-updating immediately, worldwide.
Free subscriptions: Signup is a simple email address. A monthly eNewsletter delivers free entertainment – click your eReading device and the latest version of this serial novel is downloaded immediately.
Free downloads: On the website, download the latest and most complete Save the Future! to your brand of eReader, tablet or PC.
Free gifts: Email the latest version of Save the Future! to up to 5 others at a time – with unlimited use of this email gifting.
Free reading: Save the Future! may be read online at Expandiverse.com
Buy Save the Future! from Amazon, iTunes or other online bookstores: Stores require a price, so Save the Future! will be available at the lowest price (99 cents).
As Abelow puts it, "These five distribution tests are fascinating. The digital world is accelerating. It might be easier to spread a free eBook than ever before."
Abelow is hopeful that Save the Future! starts a virtuous circle: Free entertainment "expands" our thinking beyond fearing the future. Many newly "expanded" minds may want a more successful digital future. These new markets could become large enough for companies to launch Expandiverse products and services, starting a future we want.
As one of the characters in Save the Future! says, "(Character) has something we don't… He's taking over because he's driven by his dreams while we're driven by our plans… Dreams win over plans."
DAN ABELOW, a graduate of Harvard and the Wharton School, is an American inventor, technology consultant and author. His previous patents have been licensed by over 400 corporations that include Apple, Google, Microsoft, Samsung Electronics and many others. Abelow's Expandiverse™ is in a pre-launch beta stage to test and develop its business model. Abelow's initial tests include free serial novels set in the Expandiverse, professional speaking, technology licensing, entertainment rights, and services. For more information see expandiverse.com.
To schedule an interview with Dan Abelow, please call Dan directly at (407) 786-7422, or email him at expandiverse(at)gmail(dot)com.