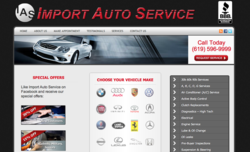 Import Auto Service San Diego mechanics are experts in repairing 18 different makes of European and Asian automobiles.
San Diego, CA (PRWEB) July 25, 2012
Import Auto Service, San Diego's high-tech diagnostic specialist for European and Asian vehicles, has overhauled its Web site.
The new site, located at importautosantee.com, is where San Diego import owners can find answers to their questions about auto service needs. Whether it is a job requiring a mechanic's attention, or whether it is simply time for scheduled maintenance, importautosantee.com is the place to start.
Service for multiple makes
Import Auto Service San Diego mechanics are experts in repairing 18 different makes of European and Asian automobiles: Acura, Audi, BMW, Ferrari, Fiat, Honda, Infiniti, Jaguar, Land Rover, Lexus, Mercedes, Mini-Cooper, Nissan, Porsche, Saab, Toyota, Volkswagen and Volvo. On the new Web site's front page, customers can click on an image of their make's symbol to find more information on the types of services available.
In-depth information
One of the biggest new features at importautosantee.com is the Services page. On it, customers will find a comprehensive listing of works performed by Import Auto Service. Auto owners can easily identify their service need and click on its name to be taken to a page detailing what will be done for their cars.
If a customer has a scheduled maintenance check, whether it is based on mileage driven or based on the calendar, the new importautosantee.com lists every service mechanics will perform, inside and outside of the car.
The Services page also gives customers information about automobile parts and why those parts need regular and proper maintenance. For major areas, such as brakes, cooling and heating systems, electrical systems, engines, steering, suspensions and transmissions, the new site identifies common types of repairs. Customers can then use this information to let Import Auto Service mechanics know where trouble spots may be, ensuring a quicker, more accurate repair.
Service that is a click away
In the interest of convenience, Import Auto Service San Diego customers can now make appointments online. Clicking on the Make Appointment tab or on the Request Service tab will take customers to a form to list contact information. Customers can also type in detailed messages describing their auto repair needs.
Under the Contact Us tab, customers can find the auto shop's address, phone number and a map to the shop. There is also an E-mail address where customers can send questions.
Other site features
The new importautosantee.com maintains a blog, where customers can read service tips on various makes of automobiles and comment on the entry. Customers can read testimonials from other Import Auto Service customers, detailing their impressions about repair work.
Import Auto Service is on Facebook. The Web site's home page features a link to its Facebook page. Import Auto Service's Facebook friends can receive special offers for discounts on service.
Import Auto Service is an accredited, family-owned business known for its high-tech diagnostics equipment. Keeping modern cars running smoothly requires thorough knowledge of today's onboard computer systems. Import Auto Service mechanics are systems experts, and their ability to target customers' needs results in repair work of the highest quality.