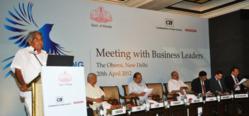 The goal of this branding exercise is to catalyse growth through enabling policies and to facilitate an environment for investment. We need to highlight the fact that Kerala is a very lucrative, investor-friendly destination.
Trivandrum, Kerala, India (PRWEB) July 26, 2012
Kerala, ensconced in the southwest corner of the Indian peninsula and sandwiched between the rolling greens of the Western Ghats and blue waters of the Arabian sea, evokes a vision that is aptly captured in "God's Own Country." Over the years, Kerala's famed natural beauty has attracted travelers from all corners of the globe, over and over again.
This apart, Kerala sets the tone for social development in the country, creating benchmarks that others choose to emulate. Kerala has been at the forefront of making quality education and healthcare available to the masses. Kerala's human development indicators (HDI) is the highest in the country and even on par with some developed nations. Specifically the state has had excellent socio-development indicators like high literacy, high life expectancy, low infant mortality, greater skew favouring the girl child and more. The result of this is the creation of a strong social fabric that has been better able to weather the turbulences thrown up by the economic upheavals of the past decade.
A natural spin-off of Kerala's advanced social infrastructure has been its much-acclaimed human resource potential, which has reached far and wide, across the country and beyond, contributing significantly in various fields. The State has emphasized equitable growth and sustainable resource utilization for its economic progress. Kerala has placed special emphasis on being green and environment friendly. A high quality of living at relatively affordable cost has helped keep attrition rates in check.
Building on these strong foundations the state now proposes to bring on board partners who can help unleash the latent potential of the state for the benefit of all stakeholders. With this picture in mind Government of Kerala seeks to bring together constituents from all walks of life under the umbrella of a Biennial Global Connect event positioned as "Emerging Kerala". While as the name suggests the focus would be on Kerala, it is emphasized that the intent is to elucidate thoughts and ideas that would be actioned for the common good elsewhere in the country and other places around the globe.
Emerging Kerala is broadly a connect program -- a platform to bring together all stakeholders in order to make happen the vision of an enterprising Kerala a reality over the medium term. The Event will showcase 26 sectors which will be amongst the investment avenues in Kerala.

IT and IT Enabled Service;
Tourism;
Health Care services;
Engineering and automotive;
Trade and Retailing;
Food and Agro Processing and value addition;
Gems and Jewelry;
Rare Earth Minerals;
Textiles & Garments;
Ports, Ship building and related industries;
Electronics;
Knowledge/Education sector;
Gas based infrastructure;
Green Energy.
Bio-Technology, Nano Technology, Pharmaceuticals.
Urban Infrastructure development.
Infotainment.
Logistic Parks.
Petrochemicals.
Environment Technologies.
Water Technologies.
Basic & Industrial Infrastructure development.
Airport Infrastructure and Aeroplane & Helicopter services.
Water Transportation.
Centres of Excellence.
Infrastructure development (Road, Rail Power, Water Supply, Sewage).
Stakeholders from all sectors, would be part of the deliberations that take place during the Event. Emphasis will be on bringing together leadership, both from India and abroad, from all walks of life to participate in the event. This would include:
Corporate leaders;
Heads of Governments;
Foreign dignitaries;
Heads of Major Regulatory Institutions, Banks and such others;
Renowned scholars;
Leading economists;
Eminent personalities from around the world.
Emerging Kerala is planned as a biennial Global Connect, the first being 'Emerging Kerala 2012' scheduled to be held from 12th - 14th September 2012 at Kochi, Kerala. The Hon'ble Prime Minister of India will inaugurate the three-day event. Several programmes are planned in connection with and running up to 'Emerging Kerala 2012'. These include:

Business meets;
Sectoral conclaves;
Domestic and international roadshows;
Discussion and debates.
The first Global Connect would witness various sessions such as:

Sectoral presentations;
Round tables;
Business to Business (B2B) connects;
Business to Government (B2G) connects;
Cultural performances.
The Event as well as all its associated programmes would have the support of the Government of Kerala (GoK), in addition to various Trade and Industrial bodies. The Confederation of Indian Industry (CII) and National Association of Software & Services Companies (NASSCOM) are the key event partners.
Running up to the event, a slew of project oppurtunities will be shared. The Government is keen to invite partnerships for a multitude of Mega Projects being conceptualized in Kerala. Some of these projects are:
Supplementary Gas Infrastructure;
Vizhinjam International Container Transshipment Terminal;
High Speed Rail Corridor;
Kochi-Coimbatore Industrial Corridor Project;
Life Sciences Park Project;
Electronic Hub Project;
Power projects;
Municipal waste management;
Centres of Excellence in Higher Education.
These and many more would be show cased for the benefit of interested investors
GoK would like all stakeholders to come to Kochi for "Emerging Kerala 2012" with an open mind to debate, discuss and help plan and execute policies, initiatives and frameworks that will be true enablers for powering long term growth. We would be looking to bring together the leading intellects and visionaries to present their perspectives on sectors and issues of import, not just for Kerala, but the country as a whole. Even as we do these, we would like the delegates to soak in the cultural treat and vistas of nature's bounty that the state is famed for. The Government of Kerala seeks the whole-hearted support, and participation of all stakeholders, both within the country and abroad, to make a success of "Emerging Kerala 2012".