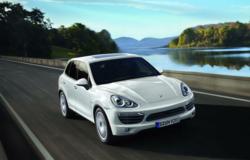 Hybrids aren't just egg-shaped appliances with anemic engines.
Torrance, CA (PRWEB) July 26, 2012
Hybrid vehicles have come a long way since the introduction of the iconic Toyota Prius. These days, according to autoMedia.com, a trusted source of automotive advice and new car reviews, hybrids are also bringing eco-friendly technology to extremely powerful engines. Editors examined some of the best combinations of grunt and green and narrowed them down to the 10 top high-horsepower hybrids.
Whether modernizing Porsche performance and GM trucks, or boosting power on the Infiniti M35h and Toyota Camry sedans, these high-performance hybrid engines are proving that some hybrid models can burn rubber and not particulates. Is this trend a clue that hybrids will become more powerful in the future?
"It seems like every few months, an automaker introduces a gasoline-electric hybrid vehicle that claims to change minds, or break from the mold, or challenge the status quo," said Ryan ZumMallen, associate editor for autoMedia.com. "By now, it's clear that hybrids aren't just egg-shaped appliances with anemic engines." Here is a sampling of autoMedia.com's Ten Hybrids with Impressive Power:
Hyundai Sonata Hybrid: 206 hp, 35/40 mpg
The power is consistent and sizable in the Hyundai Sonata Hybrid, with a 2.4L I-4 engine that can best be described as smooth. Buyers will get real bang for the buck with the Sonata Hybrid, as well as modern styling and a comfortable, spacious interior.
Infiniti M35h: 360 hp, 27/32 mpg
When it comes to performance, the M35h outpaces its competitors in nearly every way. Its 3.5L V6 engine and accompanying electric motors may be the best blend of performance and efficiency on this entire list. While its combination isn't the status quo for hybrid vehicles yet, the Infiniti M35h is proof it can be done and its very existence bodes well for the future.
Lexus RX450h: 295 hp, 32/28 mpg
Hybrid technology has come a long way, but Lexus is really the first automaker that's figured out how to bring real fuel efficiency to a luxury SUV with the RX450h. A 3.5L V6 engine with two electric motors provide potent power while also delivering more than 30 mpg in city driving.
Porsche Panamera S Hybrid: 380 hp, 22/30 mpg
Combining a 333-hp supercharged 3.0L V6 with a 47-hp electric motor and an 8-speed Tiptronic S automatic transmission, the Porsche Panamera S Hybrid is the world's first full parallel luxury hybrid sedan—and Porsche's first model to earn an EPA 30 mpg fuel economy rating.
To read about the remaining high-horsepower hybrids, please visit http://www.automedia.com/Blog/post/Ten-Hybrids-With-Impressive-Horsepower.aspx.
About autoMedia.com: The auto website was launched in September 2000 by a team of automotive editorial, design, and publishing professionals, with the goal to be the premier provider of quality automotive content on and for the Web. Today it features over 92,500 pages of original articles, including over 2,500 features researched and written by leading automotive experts, covering new and used car buying, new vehicle previews, road test reviews, car care maintenance, professional driving advice, and technology. Automotive enthusiasts and new car shoppers can read about the latest industry news, pricing, rebates and incentives, view photo galleries and research details on all makes and models. For more information visit autoMedia.com.