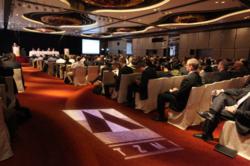 the meeting place of the world's titanium and zircon industries
(PRWEB) July 27, 2012
The 6th Annual TZMI Congress is set once again to be the meeting place of the world's titanium and zircon industries. The 2012 Congress is set to build upon the highly successful 2011 Congress, where more than 400 industry leaders and representatives attended an in-depth examination of the titanium feedstocks and zircon industries, TiO2 pigment and end-use markets.
Once again held in Hong Kong, at the InterContinental Hotel from 5 to 8 November, the 2012 TZMI Congress is set to provide delegates with the opportunity to experience an industry wide networking opportunity like no other. Continued industry growth and changing dynamics in 2011 and 2012, means this is an event not to miss.
Strong and continually increasing global demand across the mineral sands supply chain marks the current environment, combined with new project development and new investment interest in the mineral sands industry. These topics and more will be high on the agenda at the 2012 TZMI Congress.
In response to strong delegate feedback, the Congress will now be held over three days instead of two, allowing for increased networking opportunities together with expert presentations from around the globe.
Speakers already confirmed include industry leading companies such as Base Resources, DuPont Titanium Technologies, Indian Rare Earths, Osaka Titanium Technologies, Sichuan Lomon, SITTEC Ltd, TIMET and Tronox along with specialist papers from TZMI.
Registration numbers are already near 100, so 2012 is shaping up to be another exciting TZMI Congress from the industry. Early bird registration is available until 13 August 2012 with a range of highly sought after specially negotiated hotel accommodation options available.
For more information or to register please visit http://www.congress.tzmi.com.
About TZMI
TZ Minerals International (TZMI) is a global, independent consulting and publishing company with offices in Australia, China, the US, Europe and Africa. The strength of TZMI's consulting services stems from extensive practical experience in the mineral sands, titanium dioxide and coatings industries and from a comprehensive database, which has been built up over many years.
TZMI has proven expertise gained from our consultants having many years of direct operating experience in the industry in chief executive, senior operational, analytical and marketing roles.
TZMI's publications and data services support the consulting activities and ensure up-to-date, high quality and comprehensive data, analysis and information across the mineral sands, zircon and TiO2 pigment industries.
TZMI provides operational and technical expert advice on many areas including:

Technical consulting (Scoping Studies, Bankable Feasibility Studies)
Mergers and Acquisitions
Market Assessments and industry analysis
Due diligence
Pre-feasibility studies incl. preliminary capital and operating cost estimation
Competitive cost analysis and benchmarking
Technical reviews and audits
Resource assessments
Physical separation test work
Flowsheet development
Customised data analysis and reporting