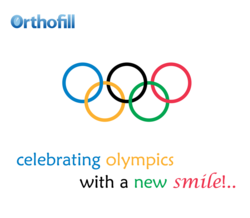 The company believes that the end product is not the only basis for quality service but also the home where it was developed and which welcomes them each time they make a purchase
Ottawa, ON (PRWEB) July 25, 2012
Two days until the London Olympics 2012 starts, with the best athletes all over the world gathered in one spectacular event, the company offering teeth gap solution sees the advantage of launching the latest redesign of the website Orthofill, named after its brand, in time with the Olympics opening. The upcoming Olympics has fueled more social media coverage than the previous Beijing and Vancouver Olympics, prompted by millions of fans and athletes sharing on online networks, which encourages the International Olympic Committee to launch the Olympic Athletes' Hub.
"Orthofill hopes the same turnout with the new redesign, which is inspired and yes fueled by our commitment to user satisfaction. The company believes that the end product is not the only basis for quality service but also the home where it was developed and which welcomes them each time they make a purchase," explains Orthofill, Marketing Director, Paula Bergmann.
Social media is part of the equation in marketing this revolutionary alternative to braces. The home of which the marketing director refers to is the website http://www.orthofill.com/, also the home that incubates the genius of dental professionals that provided the world with the orthodontic breakthrough – oral bands.
Oral bands are made sturdy from patented premium grade elastic polymer, tougher than the participating athletes in the upcoming London Olympics. It has no latex taste and is barely noticeable. Orthofill, the oral band brand name, is a safe and effective permanent gap closure treatment suited to everyone with an aversion to braces.
Major changes include three set packages for different teeth gap sizes. Orthofill now offers Medium package for medium teeth gap best for 2-3 teeth gap, Small package suitable for 1-2 mm teeth gap and Large package for 3-3.5 mm teeth gap size. Refer to http://www.orthofill.com/packages for more information on the oral band packages.
Orthofill also offers free shipping for clients who orders medium or large packages while small package will be charged as low as $7 per order shipping.
For more information on how Orthofill can treat diastema in less than two months, visit http://www.orthofill.com/.
About:
Orthofill is owned by Clicking Labs. With dedication and perseverance they were able to bring together a diverse team of web professionals to provide internet businesses with creative web marketing strategies. Founded in Ottawa, Canada, the company has expanded operations to Cebu, Philippines in early 2011 to better serve its clients.
###