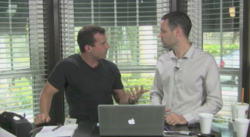 [W]hat you have to realize if you're marketing anything is that you need some way to show your audience that you not only know what you're talking about, but that also that what you're suggesting actually gets the outcome. -Rich Schefren
Melbourne, Australia (PRWEB) July 26, 2012
Rich Schefren, Founder and CEO of Strategic Profits, has invited PreneurCast's Pete Williams to Florida to share the latter's productivity and workflow processes at a client-only live webinar. Among those processes is podcasting, so Williams begins by recording his conversation with Schefren about the importance of demonstrating to clients which will then be released as the latest episode of the marketing podcast.
The two emphasize the significance of providing proof when marketing a product or a service. They then give some examples and behind-the-scenes information people may not be aware of.
"What we're talking about here is how to prove you are an authority," Williams says. "There are a number of ways to do this, some more successful than others. But until you establish yourself as a knowledgeable figure, getting someone to believe you is going to be difficult."
Schefren further elaborates, "There are many forms of proof. But at the end of the day, what you have to realize if you're marketing anything, is that you need some way to show your audience that you not only know what you're talking about, but also that what you're suggesting actually gets the outcome. You can do that with testimonials, you can do that with case studies. But one of the most effective ways is to actually demonstrate it in action."
The men then point to several instances where people put themselves on the line to prove it. One of these is the famous company Life Lock. The president of the company promotes his business by driving a semi around with his Social Security number painted on the side.
"That's the kind of authoritative proof we're talking about," Schefren says. "Most people don't know the man's ID has been hacked several times already, but they see him willing to expose himself and trust in the security of his company. His business has experienced huge growth."
Watch the entire episode or read the transcript at: http://www.preneurmedia.tv/preneurcast/preneurcast059-demonstrating-toyour-clients/
This edition of just one of many put on PreneurMedia. Visit http://www.preneurmedia.tv/ for more episodes.
PreneurCast is a marketing podcast for entrepreneurs created by entrepreneur and marketer Pete Williams and digital media producer Dom Goucher. It is where they discuss entrepreneurship, business, internet marketing and productivity (with a fair smattering of software and gadgets too). PreneurCast debuted on iTunes' New & Noteworthy, and has consistently been featured in the business category's What's Hot and Top Podcasts sections around the globe.