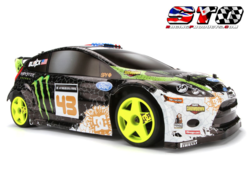 (PRWEB UK) 26 July 2012
Professional rally car driver Ken Block has been taking the Internet by storm with videos of him putting his Ford Fiesta through its paces. His latest video filmed on the streets of San Francisco was a massive hit, reaching an astonishing 23,124,111 hits on you tube.
The almost 10 minute video was shot by director Ben Conrad over the course of 5 days. The awesome Ford Fiesta that is distinctively covered in Monster, Ford and DC Shoes sponsorship is capable of hitting 96 km/h in 1.8 seconds.
The 10-minute film shows Block at his best as he expertly performs a variety of awesome drifts and jumps. 44-year-old Ken must be fearless to even attempt some of the stunts he pulls. If you haven't seen it already it's a must watch!
Ken Block fans and RC Car enthusiasts will be excited to hear that a HPI Racing 1/8th scale RC replica of the Ford Fiesta featured in the film, is soon to be released. The exact replica of Ken Block's Gymkhana Five Fiesta will be available online at STO Racing Products.
The HPI WR8 Flux is powered by a 4000Kv HPI Flux Vektor motor, 2S/3S LiPo capable HPI Flux VAPOR Pro electronic speed control, full time 4WD shaft drive technology and sealed super tough adjustable gear differentials. It's ready to fly over jumps and blast down the road just like Ken Block's full sized Ford Fiesta H.F.H.V. from Gymkhana Five.
With the capacity to handle 2S and 3S LiPo power, the Flux VAPOR Pro electronic speed control can take anything you can possibly throw at it and keep coming back for more! The VAPOR Pro features an integrated cooling fan to keep it cool in tough conditions. The Flux VAPOR Pro ESC is reversible so you can back out of jams with ease.
As of yet the release date and pricing info hasn't been confirmed by HPI Racing, but register your interest on STO Racing Products Facebook to get the latest information as its released and be informed when the exact replica of Ken Block's Gymkhana Five Fiesta is released.
STO Racing Products specialises in supplying RC Nitro, Electric and Cars, helicopters, boats and planes to suit all abilities and requirements.