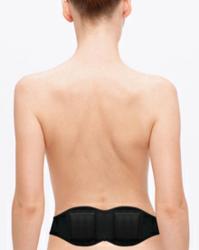 Dr. Allen's therapeutic devices are a risk-free solution for chronic conditions such as back pain, sciatica, and prostate enlargement.
London, UK (PRWEB) July 27, 2012
Continuous lower back pain typically results from a spinal problem, while urination difficulty experienced by senior men is commonly associated with enlarged prostate; both these chronic conditions should never be ignored, and a new natural therapy with Dr. Allen's devices should be tried out, states Fine Treatment. With this natural therapy, the users can stay away from the multiple side effects of conventional treatment options, like long-term courses of medications or surgeries, which can harm general health.
"8 out of every 10 Americans will be affected by back pain this year. Disturbing a person's sleep, social life, and quality of work, back pain can easily turn the most enjoyable occasions into nightmares," states the Northwestern Memorial Hospital, on July 17th. "Extended time lying on extremely firm or soft mattresses can force the spine into awkward positions, worsening back aches."
Back pain is a way of alerting you something is wrong in the lower spine. The answer to the question 'what type of treatment is better to choose' can be found in the review by Dr. Ralph Saint-Phard, MD, Lincoln medical and mental health center, USA: "The Thermobalancing Therapy is a new way of managing lower back pain and sciatica, at an affordable cost. The selling price is $130, and the patient is guaranteed to get some relief within several days of using the device."
Men indeed have to be cautious of any invasive procedure when choosing a prostate treatment option. According to the Johns Hopkins Health Alerts, "In general, the rates of sexual dysfunction are thought to be lower with transurethral needle ablation (TUNA) and transurethral microwave thermotherapy (TUMT) than with transurethral resection of the prostate transurethral resection of the prostate (TURP). Nonetheless, men can experience retrograde ejaculation (ejaculation into the bladder instead of through the penis) after TUNA and TUMT." These facts confirm there is no safe invasive treatment for BPH, while the Thermobalancing Therapy is totally harmless; watch a short video: http://www.youtube.com/watch?v=dCFy_jZgCLw.
"People need to be active in choosing a treatment option that will best protect them from additional health problems," said Dr. Simon Allen. "Dr. Allen's therapeutic devices are a risk-free solution for chronic conditions such as back pain, sciatica, and prostate enlargement."
You can read more at
http://www.finetreatment.co.uk/prostatetreatmentbph/prostatitistreatment.html.
About Dr. Simon Allen and Fine Treatment:
Dr. Simon Allen is a highly experienced medical professional. His specialty is in the internal medicine and cardio-vascular field. He has treated patients with a wide range of chronic health conditions, including people after a heart attack, with kidneys problems, including kidney stones disease, prostate and spine conditions as well as metabolic disorders. Fine Treatment exclusively offers Dr Allen's devices for chronic prostatitis and BPH treatment, coronary heart disease, dissolving kidney stones, as well as lower back pain treatment and sciatica relief.