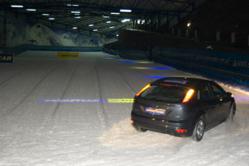 "The difference with the winter tyre is remarkable, it drove in the snow with great ease "
Warrington, UK (PRWEB UK) 26 July 2012
The decision to make the tyres available to Event Mobile Tyres' national customer base followed an impressive demonstration of both tyres' capabilities at the Tamworth Snowdome earlier in June. Mark Shankland, CEO and co-founder of Event Tyres, was there to experience the thrill of the ride first-hand.
Mark was driven up and down Tamworth's 12-degree snow covered slope in a rear wheel drive road car fitted with Goodyear Dunlop's winter tyres. Known to struggle in snow and ice conditions, the rear wheel drive vehicle made a controlled climb and descent over the indoor snowfield without drama.
"It was a revelation," said Mark Shankland, following the experience. "The difference with the winter tyre is remarkable, it drove in the snow with great ease "
Both the UltraGrip 8 and SP Winter Sport 4D use patented grip technology to create more 'edges' in the tyre tread for improved handling on snow and ice covered roads. Advanced tyre compounds are used to keep the tyre rubber flexible and responsive at low temperatures.
In independent winter road tests, with the temperature below 7ºc, Goodyear Dunlop's winter tyres shortened braking distances on a wet asphalt surface by 4% compared to leading premium summer tyres, and by 3% on snow. Significantly, the UltraGrip 8 showed 16% more resistance to aquaplaning on curved wet roads than the summer tyre option.
"There's no doubt in my mind that we're saving lives by offering our customers Goodyear Dunlop's winter tyres this year," commented Mark Shankland.
"Even in a mild winter the road surface temperature spends a lot of time below 7 degrees Celsius. With the UltraGrip 8 and SP Winter Sport 4D motorists will be safer."
About Event Mobile Tyres
Event Mobile Tyres specialise in the delivery, supply and fitting of tyres to UK motorists at their home or place of work. The company employs 42 staff and operate 30 mobile vans servicing customers nationally across the UK.