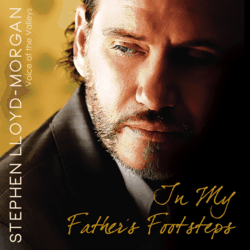 A truly outstanding album from SLM, by far his best to date.... Chris, Edinburgh – iTunes feedback
(PRWEB UK) 26 July 2012
The release of the album earlier this month has been hailed an overwhelming success with stocks of the first batch of CDs selling out within 48 hours despite it being aimed primarily at the download market. A large number of the second batch is already reserved.
The album is dedicated in memory of Steve's Dad Bryant, who passed away 18 months ago having been diagnosed with cancer only 5 week's previously and its primary purpose is to aid The Welsh cancer charity Tenovus http://www.tenovus.org.uk and The Cudeca Hospice in Spain http://www.cudeca.org – with a guaranteed 100% of sales income being donated.
The choice of recording studios brings a personal story full circle for Steve! He recorded at the famous Pop Factory Studios in The Rhondda, South Wales. Located in Porth where he was born, it was originally the 'Corona Pop' factory and depot where his Dad once worked as a delivery driver.
The album itself is divided into two distinct halves! One, the popular classical, musical theatre and crossover-opera that Steve is best known for, the other a mix of tracks from the 60s through to the 80s that were his Dad's favourites and with which Steve grew up. These include covers of tracks by the likes of The Everly Brothers, Bread, Simon & Garfunkel, Don McLean and Tom Jones among others! A total of 14 tracks, in English, Spanish, Italian and Welsh!
Album Tracks
Let It Be Me, Make It With You, Chasing Cars, Daniel, Bridge Over Troubled Water, Vincent, A Boy From Nowhere, Granada, Torna A Surriento, Volare, Sometimes I Dream, Canto Della Terra, No Day But Today, Myfanwy.
"A truly outstanding album from SLM, by far his best to date...." – Chris, Edinburgh – iTunes feedback
"I would love to make my Dad as proud as Stephen's father would have been if he could hear this new album today. Chasing Cars, one of my favourite songs, is just as brilliant as the original with a charming Welsh lilt - close your eyes and you could be listening to Tom Jones (that's a compliment by the way!). I have hugely enjoyed listening to the album, I really feel like I have been granted a personal insight into his love and dedication to his father's memory" – Charlotte – Amazon mp3 feedback
Steve's manager Nick Holland - "We are delighted with sales so far; the press and social media have really set the ball rolling; I believe Steve's personal story and the reasons behind his decision to record the album has caught everyone's imagination and with which many can personally identify. There are few that are not either directly or indirectly affected by cancer and Steve's simple aim was to try and give something back, whatever he was able, in terms of supporting the charities that gave him and his family such great support when his Dad was ill. To an extent, although of course we hope everyone really enjoys the content of the album is it evident that those who do not know Steve as a singer are still buying it to support his goal to raise as much as possible for these two amazing charities."
Steve - "The greatest thanks must obviously go to Nick for his unending commitment to the underlying concept, the execution and ultimate delivery of this album; it would certainly not be the album it is without his massive input and passion."
"The treatment and care of those suffering from cancer is something that is very important to me. It is a cruel disease that rips the heart out of families, mine included. There is no discrimination; it can hit anyone and at any age. Anything that can be done by any of us to raise money to improve the odds, whether in terms of treatment or palliative care is similarly vitally important. Cudeca and Tenovus both provide a vital service to cancer sufferers on the Costa del Sol and in Wales. Tenovus gave my family an amazing amount of support while my Dad was in hospital; and this is my way of giving something back - trying to give back what I can!" – Steve
Stephen Lloyd-Morgan, 'A Boy from Nowhere' by Dario Poli
'A Boy from Nowhere', is a particularly apt title for the Welsh tenor Stephen Lloyd-Morgan that reflects the growth of his own life's experience from the relatively humble and tough beginnings of his home in the Welsh mining valleys to the glamorous world of Marbella.
He has come a long way; handling his success in an unassuming and charming manner that delights everyone who meets him or hears him sing.
His voice has the timbre and quality of a rich full-bodied red wine, as his vocal range moves smoothly over the notes with power as well as with elegant sensitivity, and on occasion, a gentle vibrato can be detected adding extra charm to his sound as he transports the listener into his world.
His latest CD album, 'In My Father's Footsteps', recently recorded for charities, has an unusual range of songs, as mixing arias and popular ballads is not easy and a risky enterprise that few have succeeded in handling, with the exception of a few such as Andrea Bocelli and Nikolay Baskov, but Steve achieves this effortlessly.
From the classics, that every tenor is expected to conquer 'Granada' and 'Torna a Surriento', difficult enough at best to sing, to 'A Boy From Nowhere', 'Let it be me', 'Chasing Cars', and the evergreens 'Volare' and 'Bridge over Troubled Water'.
Musically he performs this delightful and eclectic mix of songs with the same integrity and musical professionalism that he brings to every audience, singing as to each and every one.
This 'Boy from Nowhere' is certainly going a long way!
By Dario Poli – Composer, Artist, Author and Illustrator
Dario also interviewed Steve for the July issue of Essential Marbella Magazine
Steve will be promoting his album at The Celtic Manor Resort, Newport, South Wales, at a Tenovus Cancer Charity event on 18th August.
Previously published feature articles and interviews earlier this month can be viewed at http://www.slmlive.com/press/InMyFathersFootsteps.htm
Featured Radio Interviews at http://www.slmlive.com/audiovideo.htm
Please see attached articles available for additional publication: "Hitting All The Right Notes for Charity" & "Stephen Lloyd-Morgan – Voice of the Valleys"
The album was released as a download from:
iTunes: http://itunes.apple.com/gb/album/in-my-fathers-footsteps/id539522892
Amazon: http://www.amazon.co.uk/dp/B008G30DK0
Spotify: http://open.spotify.com/album/7JPeVz9wcrLigYpDNgqdac
and all leading download stores.
CDs: delivered in the UK from Tenovus Cancer Charity website http://www.tenovus.org.uk/go-shopping/online-shop/it's-got-our-name-on-it!/in-my-fathers-footsteps-.aspx
Delivered worldwide from Amazon on Demand http://amzn.com/B008LYF72I
CDs also available from the 12 Cudeca & 65 Tenovus Charity Shops.
For further details see http://www.slmlive.com/album & Steve's blog http://www.slmlive.com/blog
Stephen Lloyd-Morgan
Stephen Lloyd-Morgan is a widely popular tenor, now in great demand throughout Europe. He performs an extensive repertoire of show-stopping songs from Musical Theatre, Opera and Classical-Crossover, as well as the more contemporary, sung in English, Welsh, Spanish and Italian.