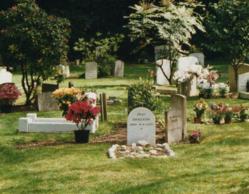 A little thought now and then forget about it until it is needed
East Grinstead, West Sussex (PRWEB UK) 27 July 2012
When people have just spent precious final moments at the hospital bedside of a dying loved one the last thing they would expect is for the doctor to start selling funeral service options, especially if they knew the hospital received a good commission if they agreed to buy from them.
Yet, this kind of 'distress' selling is commonly made in the surgeries of the UK's vets - where people have just said goodbye to pets who have been cherished members of their families.
The Office of Fair Trading looked into the human funeral business back in 2001 and made a series of recommendations aimed at ensuring the bereaved had access to the right information enabling them to make good purchasing decisions. In particular they said funeral companies should be open about their costs and about the different options open to customers as well as making it clear which parent companies had a financial interest in the business.
Pet Crematorium owner Stephen Mayles said: "There has never been an OFT enquiry into the pet funeral business, but all the same comments should apply. Large veterinary corporations tend to be contracted to single national cremation companies and smaller independent practices are being pushed towards those same companies by the buying groups they belong to. There are large incentives for using them so the situation is crying out for action to be taken to protect vulnerable pet owners. An independent investigation needs to be made."
Mr Mayles, who has run Chestnut Lodge Pet Crematorium, near East Grinstead, Sussex, for 26 years, added: "The problems come from the fact that the method of cremation and the handling of the pet will be radically different from one cremation company to the next. Add the different storage facilities and collection timings at the veterinary surgeries and it becomes clear that pet owners need to look at exactly what they are getting. To abide by normal selling regulations veterinary surgeries should provide accurate descriptions of the services they are offering, make the client aware of alternatives and allow a cooling off period for them to come to a rational decision. This rarely happens. When a person is distressed and confused they are likely to take the first option that comes along - the one the vet offers even if it isn't the one they actually want."
Funerals are the classic 'distress' purchase. People are unlikely to spend a lot of time thinking about the purchase in advance. But Mr Mayles, whose business follows the voluntary code of practice of the Association of Private Pet Cemeteries and Crematoria of which he is a member, thinks it is important that pet owners look at alternatives well in advance in order to be prepared.
His business has come up with one solution that is working well for its clients. A simple registration system allows owners to supply their details and those of their pets online or by post.
"When the time comes, a simple phone call, email or text is all it takes for us to help them," said Mr Mayles. "There is no obligation. Arrangements can be changed at any time and there is no cost involved. Our website is one of the few that provides real information about everything we do and we find that when the time comes our registered clients know exactly what they want. It completely changes the 'distress' purchase to one that is made with confidence and people can concentrate on the main issue which is dealing emotionally with the loss of their pet. A little thought now and then forget about it until it is needed. It keeps the pet owner in control of the situation."