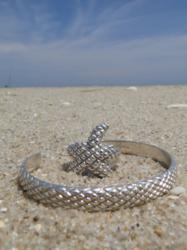 Point Pleasant Beach, NJ (PRWEB) July 27, 2012
The weather isn't the only thing that's scorching hot this summer at the Jersey Shore; the Jersey Shore Bracelet Company's jewelry line is stopping people in numerous beaches to find out more about this growing sensation.
The designer/owner, Katie Marsala, has been soaking up the sun this summer and is thrilled with the increase in sales for her company, now in it's second summer at the Shore. "I am so happy with the response and rise in popularity of the JSB (Jersey Shore Bracelet) jewelry line, and love going to the beach and seeing the bracelets and rings being enjoyed by people of all ages. We have also had a very positive response to our latest release of the JSB beads, which are currently on back-order, but should be restocked very soon."
So as many thousands of people are flocking to the Jersey Shore this weekend and the rest of the summer, they should seek refuge in the cool ocean waters, and create "Shore Memories that Last Forever", which the Jersey Shore Bracelet Company symbolizes.
Background Info:
The Jersey Shore Bracelet Company has launched a line of jewelry based around their signature cross-hatching pattern. The cross-hatching pattern is a simple yet stunning reminder of the beauty of the striations and patterns in the sand after an Atlantic storm. JSB offers sterling silver and 14 karat gold cuff styled Bracelets, and a one of a kind wrap-around Starfish Ring, along with their latest addition of a bead.
The jewelry is a beautiful keepsake to remind you of your summers down the Shore, hence their motto, "Shore Memories that Last Forever." Other coastlines have their own lines of jewelry, and now the Jersey Shore does as well. Check out the website for details and pictures of Jersey Shore Bracelet Beach Tour at your favorite beach spots.
Be sure to 'like' the Jersey Shore Bracelet Company's fan page on Facebook for a chance to win a piece from the JSB collection, and follow them on Twitter, JSBracelet. Stay up to date with JSB news and make a splash in fashion.