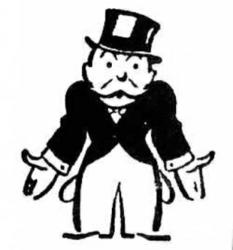 a common misconception is that there are no costs to bankruptcy and people walk away from the debt problem
(PRWEB UK) 26 July 2012
During the game of Monopoly you take the risk that you will eventually lose and be 'bankrupt'. You're fully aware that bankruptcy in Monopoly will mean sitting by the side line waiting for a winner, although more often than not the game trundles on until a draw has been declared.
A survey of 348 people provided by debt advice charity Debt Support Trust found that 67% of people in debt didn't realise that there are costs involved for entering bankruptcy. Unlike leaving the Monopoly board, bankruptcy in real life doesn't necessarily mean sitting by the side lines, without financial implications.
78% of people involved in the survey, who had a current debt problem, believed that bankrupts should be required to pay money towards their bankruptcy if they can afford it.
A recent survey by industry trade body R3 uncovered that a high percentage (82 per cent) of people thought people entering bankruptcy could have avoided the solution had they managed their finances better and not recklessly spent credit.
The fees which are involved in bankruptcy can be split into two different categories. The first is the cost to enter bankruptcy.
There are different versions of Bankruptcy across the UK and each has a different fee attached to it. However, regardless of where somebody lives in the UK, there are fees attached to apply for bankruptcy. The fees start at £90 and can rise to £700.
The upfront administrative fees are charged when the application is submitted for bankruptcy. The difference in fees will depend on each individual's personal situation and will take into account the level of unsecured debt, type of income they receive, available disposable income and assets.
The second costs involved in bankruptcy are determined after entering bankruptcy.
Bankruptcy lasts for one year from the date an application has been granted, but the costs of bankruptcy don't stop there. An income and expenditure will be gathered, reviewed and if there is sufficient disposable income every month, then this will be required for the creditors. Unnecessary and unauthorised expenses, such as satellite TV, cigarettes and club memberships will not be allowed.
Similar to monopoly, houses, cars and other assets which have equity available will be sold for the benefit of creditors.
Whilst Bankruptcy lasts for one year, a person who enters the bankruptcy debt solution will be asked to contribute towards their debt for a total of three years.
Debt advice charity Debt Support Trust is equipped for helping people with the reality of bankruptcy, should that be the correct debt solution. With trained staff and helpful volunteers the charity provides telephone and internet based debt advice across the UK.
Debt Support Trust spokesman Stuart Carmichael said, "Bankruptcy isn't a game to anyone. For most people with debt problems, it's a worrying and frightening time filled with uncertainty.
There are alternative debt solutions to bankruptcy available, however a common misconception is that there are no costs to bankruptcy and people walk away from the problem. It's our responsibility to explain that's not necessarily the case."
Unless you're cheating, people can't come back into the game of Monopoly, but in real life someone in debt can start again financially after bankruptcy. A default is applied to their credit file and it lasts for 6 years. This means obtaining credit is difficult after bankruptcy, however people are given the opportunity over the years to improve their credit profile and show they are no longer a credit risk.
Mr Carmichael said "Everybody deserves a second chance after they have been through bankruptcy. It's a tougher solution than most people understand and bankrupts don't get away with just 'writing off their debt'. It's anything but a game."