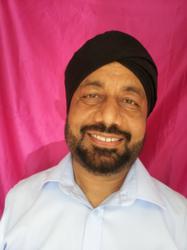 I love the problem solving aspect of my job.And hope to spend another ten years selling DIY Conservatories at U-fit
Coventry,West Midlands (PRWEB UK) 27 July 2012
Double glazing salesman, Jag Jandu, this month completes ten years of service with Double glazing firm U-fit of Coventry.In recognition of his long and outstanding service to the firm,Jag has been given a double promotion, to the positions of Senior DIY Conservatory Designer and Export Sales Manager.
When Jag first joined U-fit back in 2002, he had no previous experince of Double glazing and started as a trainee.Jag received his first promotion within the firm to DIY Conservatory designer in 2005, a role that requires dealing with enquiries and selling a conservatory solution over the phone.
Thanks to his Fluency in four languages, he has assisted in many global export enquiries for window, door and conservatory products. His greatest export scoop to date has been to secure the supply of DIY conservatories to a leading Norwegian DIY Chain. 
Its not all been plain sailing though.At 36, Jag Jandu and his wife became the first Asian couple in the UK to have a kidney transplant. The kidney was donated by his wife. Although the procedure was successful, the kidney has only lasted ten years. Jag now undergoes 18 hours a week treatment for kidney dialysis.
For many people this would prevent them from full time employment. Not Jag though,he has not let his illness stop him from rising to the top.
'Jag certainly has what it takes' explains MD John Armstrong 'Just recently I received this email from a customer;'
> From: Angela [mail] Sent: 05 July 2012 11:24 To: frank
> Subject: Many thanks.
Dear Frank I just wanted to sing the praises of one of your consultants: Jag.
What an absolute pleasure it was to speak to someone who did not go down the route of 'hard sell' but took the time to listen to what I wanted, interpreted my wishes exactly and instead of trying to load my order with lots of unnecessary options actually saved me money by making cost-saving suggestions. Jag knows the window business inside out and that speaks volumes.
Kindest regards,
Angela
'There's not much more to say really is there! We receive many messages from customers crediting the performance of our employees and Jag has probably more than anybody else' adds John.
It's clear that Jag is a real credit to both U-fit customers and it's employees. Jag is a very modest person and dismisses his recent double promotion with a laconic 'not bad'.
Regrettably Jag is still in desperate need of a new kidney and it is hoped that this article may be read by a possible donor.If any individual who would like to help.
Please contact us via email
source U-fit,Boston place Coventry