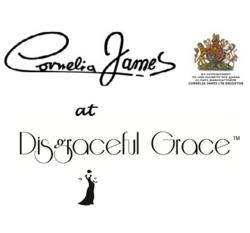 The word 'gloves' begins with g and ends with s – connected by the word 'love' and that is how the we feel about our new collection of stunning occasion gloves
(PRWEB UK) 26 July 2012
Fit for the Queen - handmade in the UK by the maker of gloves for Her Majesty the Queen, in this year of Royal celebration and London 2012, Disgraceful Grace is very proud to be offering literally handfuls of 'British-ness' to their customers. "The word 'gloves' begins with g and ends with s – connected by the word 'love' and that is how the we feel about our new collection of stunning occasion gloves" says Bracken O'Hara, proprietor of Disgraceful Grace.
Cornelia had studied art and design in Vienna and arrived in England as a refugee in 1939. After the war, in a world made drab by rationing, the gloves that she made in a huge range of colours became fashion essentials. Vogue magazine profiled her as "the colour Queen of England" and Cornelia quickly established a thriving business supplying gloves to couturiers and leading stores.
Today it is Genevieve James, Cornelia's daughter, who holds the Warrant as glove manufacturer 'by appointment to Her Majesty the Queen'. It is recognised the world over as a mark of quality and excellence and cannot be bought at any price. Cornelia James are the glove makers of choice for theatrical institutions such as the Royal Opera House at Covent Garden and the New York Metropolitan Opera Company. They have also provided gloves for the shows Mamma Mia, Starlight Express and Spamalot as well as the film productions Pride and Prejudice, Moulin Rouge and Australia.
The glove collection of Cornelia James at Disgraceful Grace range in price from £38.00 to £75.00 and all materials are made in Britain, a factor that has helped maintain the royal patronage.
Disgraceful Grace stocks hand-crafted jewellery and accessories sourced from innovative British artisans and a select group of international designers that make fantastic gifts for elegant woman and jewellery devotees - versatile and classic pieces that will inject lustre, colour and texture into wardrobes of glamorous women and smugness onto the face of the giver.