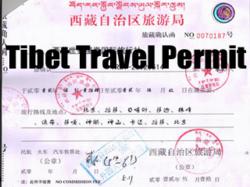 (PRWEB) July 26, 2012
Explore Tibet, a Lhasa-based Tibet tour company, is happy to announce that they are now one of the few agencies who can acquire Tibet Travel permit, with no group size limitation, and no mixed nationality limitation.
"The situation has been really tricky this year, and the rules have changed several times," Explore Tibet said. "But the recent change has made it much easier for foreigners to travel to Tibet. Our agency can provide permits for foreign travelers, and they are not limited by nationality or group size. So travelers from different countries can now travel together as a group, and the group does not have to be 5 people or more."
The Tibet Travel Permit is obtained from the Tibet Tourism Bureau, and all travelers should deal with local registered agencies in advance to get the permit, as there are several different types of permit depending on where in Tibet the traveler plans to go. To apply for the permit, travelers should submit their valid passports and a copy of their China visa to an authorized travel agency. For travel to a restricted region like Mt.Kailash, the permit must be applied for at least 20 days in advance. For travel to open areas like Lhasa and Mt. Everest, the permit should be applied for at least 10 days in advance.
The Tibet Travel Permit (TTP) is a document that consists of a traveler's passport number, nationality, name, date of birth, and the name of the places they are visiting in Tibet. The TTP is issued by the Tibet Tourism Bureau, and it is necessary for all the foreign visitors traveling in Tibet to obtain this permit. It is necessary to show the TTP before boarding a flight or train from China to the Tibet Autonomous Region.
Previous restrictions a limited the number of people in a group to five, and required that they all be of the same nationality.
"The permit situation for foreign travelers in Tibet has changed multiple times this season," Explore Tibet said. "There are a lot of rumors about the permit, but we have the latest information from the Tibet Tourism Bureau."
There are still several restrictions for Tibet travel. Citizens of the UK, Norway, Korea, Austria and the Philippines cannot get permits at this time. And currently no foreign groups are permitted to visit the Mt. Everest base camp. Groups are allowed to drive to the border town of Zhangmu and view Everest and the Himalayan range from the village of Old Tingri.
Explore Tibet is a locally-owned travel agency committed to responsible tourism and sustainable practice.