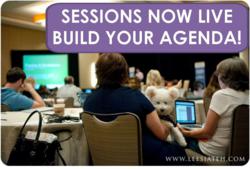 "If you're involved in pet blogging or the social media industry, this is one conference you cannot afford to miss!" - Neely Raffellini, The Giving Paw
Atlanta, GA (PRWEB) July 30, 2012
If you're hearing the sounds of joyous barks and clicking keypads, it must mean it's time to sniff out the annual pet social media conference, BarkWorld Expo.
In its 3rd consecutive year, BarkWorld Expo will bring together over 300 of the nation's leading pet-related online influencers to Atlanta, Georgia October 25 – 27, 2012 at The Westin Buckhead.
BarkWorld Expo is the only, industry-wide educational and interactive conference that covers social media education and lifestyle discussions for pet influencers and those who love pets across all fields. Although the world increasingly depends on social interactions to build brand
awareness and connect the most socially-aware consumers together, online social media influencers also benefit from building face-to-face relationships and seeing favorite and newly launched pet products firsthand.
BarkWorld Expo provides the platform for both this interaction and online product education, while offering attendees an aggressive curriculum based on current pet-friendly lifestyle trends, online best practices, and advancements in social media.
The impressive speaker line-up at BarkWorld Expo 2012 includes:

Brent Herd, SE Director of Twitter,
Matt Meeker, Co-Founder of MeetUp.com,
Kymberlie Adams, Social Media Manager for the American Society of the Prevention of Cruelty to Animals (ASPCA),
Andy Nibley, Author and Documentarian of Madonna of the Mills, and
Over 20 other session speakers ranging from innovators at Constant Contact, Yahoo! Contributor Network, DogVacay, Pet Sitters International, Modern Cat, and many of the nation's leading Pet Bloggers and Lifestyle Entrepreneurs
With the goal of providing great content, fantastic speakers, and unmatched networking, BarkWorld Expo's educational agenda includes an array of engaging sessions and roundtable discussions, and new for 2012 will be instructions on gaming and pet mobile apps, entrepreneurship for pet professionals, video and video editing, podcasting, Google+, Pinterest, and lifestyle sessions like "Digital Scrapbooking for Pet Lovers," "Agility and My Dog," "DIY & Home Improvement for Pet-Parents," and even Dog Yoga each morning.
"BarkWorld offers an exceptional opportunity for passionate pet people to meet and gather, exchange ideas and expand their horizons," states Rick Rockhill, Senior Vice-President of Natural Balance Pet Foods. "BarkWorld has something for everyone interested in being part of the social media revolution around pets."
"Each year, more pet lovers try to harness the power of social media and build a pet-centric community, but struggle with the lack of education and connectivity," shares Denise Quashie, BarkWorld Expo's Founder and Social Media Event Strategist. "With a focus on helping key influencers make connections, benefit from engaging educational sessions, and build strong
online strategies, BarkWorld's attendees will learn that there are endless pawsibilities to grow their brand, their business or themselves."