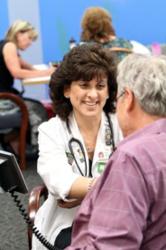 (PRWEB) July 25, 2012
Northwest Community Hospital (NCH) has received financial grant funding from Blue Cross and Blue Shield of Illinois (BCBSIL) to provide accessible health services and education to economically disadvantaged adults and families in Chicago's northwest suburbs. The $36,800 in funding from BCBSIL's Community Partners Grant is earmarked for NCH's Community Nursing Program, a valuable and accessible healthcare resource, particularly for the low-income Latino populations in Palatine and throughout the northwest suburbs.
"We are grateful to receive such generous funding from Blue Cross and Blue Shield of Illinois. This grant supports NCH's mission to improve the health of our community through accessible and quality healthcare services," said Karen Baker, NCH's director of Community Services.
NCH's Community Nursing Program helps those who are uninsured or on public aid navigate healthcare resources, an often difficult and confusing process especially for those with limited English language skills. Community nursing addresses these barriers by improving education and facilitating access to primary care services for at-risk populations who don't have a "medical home" for routine check-ups and proper wellness management.
"Our community nurse, who is bilingual in Spanish, bridges socioeconomic, language and cultural gaps by working with patients to assess their immediate needs, while also collaborating with and referring to community clinics to accommodate urgent cases in the appropriate setting," said Baker, adding that the goal is to provide timely interventions and to establish proper behaviors in chronic disease management before a condition becomes more serious and only treatable in the Emergency Room.
The Centers for Disease Control and Prevention (CDC) reports that, in Illinois, the prevalence of obesity among the Latino population is more than 7 percent higher than that of non-Hispanic whites, according to the most recent data published in 2008. This means nearly one in three Latinos are obese, and the health risks can be even greater for those not engaged in preventive health practices due to economic hardship or cultural barriers.
Based on these findings and through a comprehensive community health assessment, NCH has developed specific initiatives within the context of its community nursing program to reduce health disparities among high-risk Latinos. These efforts include nutrition and fitness education, diabetes prevention, chronic disease management education and breastfeeding promotion.
The community nurse also oversees NCH's Promotoras de Salud program, a nationally recognized model in which bilingual women from the community deliver important health education to their peers. Some Promotoras are specially trained as breastfeeding peer counselors who can provide Latina moms with prenatal education on the benefits of breastfeeding, as well as post-delivery one-on-one support for new moms.
While NCH's Community Nursing Program is based out of the Palatine Opportunity Center, services are widely available to under resourced residents throughout the northwest suburbs. To learn more about Community Services at NCH and its wide range of community health initiatives and cultural resources, visit http://www.nch.org/community.