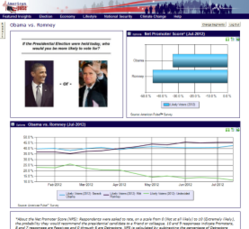 Support for Obama among 18-29 year olds is down from 2008.
Worthington, OH (PRWEB) July 25, 2012
According to the most recent American Pulse™ Survey (July-12, N=3,346), support for President Obama is down 23.5% among young people (18-29) likely to vote in the 2012 presidential election. Although these voters tend to support the incumbent (59.9% say they would vote for him if the election were held today), their support is off from the 78.3% who said they voted for him in 2008. Of those who voted for him previously, an estimated 3.6 million voters are indicating a change of course, saying they'll now vote for Romney or are undecided.
Many factors are likely contributing to uncertainty among young voters. Student loan debt and cost of living increases, coupled with the dismal employment environment, are leaving many young voters questioning the direction of the country.
Almost half (48.1%) of young adults who are likely to vote report having student loan debt and almost as many say it's a huge financial burden. Less than one percent reports that the debt has not impacted their spending.
"Does your student loan debt impact your spending?"
18-29 Year Olds Likely to Vote with Student Loan Debt
Yes, it is a huge burden -- 47.3%
Yes, but it's a manageable expense -- 28.8%
Not really, I've adjusted my budget to accommodate -- 9.6%
Not at all -- 0.7%
NA, I have not yet started repaying my student loan debt -- 13.5%
Source: American Pulse™, July 2012
The top ways these young adults say they cope with student loan debt are by dining out less (64.2%), reducing their overall spending (58.4%) and cutting back on entertainment luxuries (49.3%) such as going to the movies and cable TV. Further, many likely young voters may not see the value in a college education. While 32.2% say that a degree promises a job, 32.0% say it brings no guarantees.
Increases in the cost of living are also having a significant impact on 18-29 year olds likely to vote. Close to 4 in 5 say higher gas prices have impacted their personal spending over the past 4 years.
"How have increases in the cost of the following impacted your personal spending in the past 4 years (since 2008)?"
18-29 Year Olds Likely to Vote Impacted Somewhat/Greatly
Gasoline -- 78.8%
Food -- 72.4%
Utilities -- 65.6%
Auto expenses -- 62.1%
Healthcare -- 61.4%
Source: American Pulse™, July 2012
The majority (60.2%) of young people also believe the U.S. is worse off than what their parents had, compared to 19.2% who say it's better. 42.8% say the country is worse off than it was four years ago (vs. 30.1% who say it's better and 27.1% who say it's the same).
For a special complimentary report on how young people feel about current U.S. issues and how they will affect voting, click here.
American Pulse™
The American Pulse™ provides a timely view of how people feel about topics such as politics, pop culture and the economy through the American Pulse InsightCenter™. This center provides advanced cloud-based technology-driven answers, which are delivered via multiple devices (PC/Tablet/Smartphone), regarding the current state of the union through the eyes of Americans. 3,346 respondents participated in the July 2 American Pulse conducted 7/17-7/23/2012. Margin of error is +/- 1.7% at the 95% confidence level.
reInvention LLC
reInvention LLC provides global sampling and data collection services. Driven by a passion for making it incredibly easy to survey audiences anywhere in the world, reInvention delivers high-quality responses and superior results. OneOpinion, reInvention's respondent panel, is a next generation survey taking platform that encourages survey participation through sophisticated technology, honest communications, and respectful compensation. reInvention was founded by Hugh Davis and Keith Price and is headquartered in Westport, CT. http://www.reInvention.com
###
Contact:
Chrissy Wissinger, Senior Manager, Communications
chrissy(at)biginsight(dot)com
Dianne Kremer, Senior Analyst
dianne(at)biginsight(dot)com
614-846-0146
reInvention LLC
Jim Nikolis
jnikolis(at)reinvention(dot)com
203-635-0882