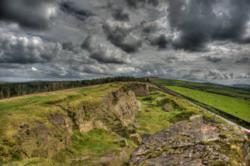 These stories are just an added layer to give this place a sense of it being a world apart
Peak District, UK, 31 July 2012 (PRWEB UK) 31 July 2012
As the early morning mist descends upon the Dark Peak, or the hazy heat distorts the lush pastures of the White Peak, things are not as serene as they seem.
According to the experts who, it's safe to say, know a fair bit about Derbyshire, the Peak District Online team share the myths and legends they have discovered over the years, which only add to the mystery and wonder of this picturesque place. 'These stories are just an added layer to give this place a sense of it being a world apart, a place where magic can happen and weird and wonderful things are all around us,' says James. 'We've been scaring ourselves silly in the office, as we unearth the unearthly.'
The brand-new pages are added to the very successful website http://www.peakdistrictonline.co.uk. Already attracting over 200,000 unique visitors each month, the UK's largest Peak District guide for accommodation prides itself in providing visitors to the Peak District with anything they want to know, where to go and what to see. Not only are they the team of experts behind providing the largest list of holiday accommodation for tourists wanting to stay in the area, but they've grown their site to encompass anything relevant and interesting for their viewers wanting to holiday in delightful Derbyshire.
'It's been really fun finding out about all these spooky legends and myths surrounding this area. It's no wonder many deaths have been reported over the years as planes have come down over the high moorlands at Kinder Plateau for example. These stories we know are true because the wreckage is still there for all to see today, but recent sightings of ghostly planes retracing their fateful death plunges are something which can't be accounted for.' He goes on to explain, 'some of the stories were news to us, such as how many references there are to Robin Hood and Little John in the area, seemingly many miles from Nottingham.'
The family run company at Peak District Online have made it their mission to be the best in the business. With the start of the summer holidays already upon the people of Derbyshire, they provide lots of information to help parents with children, their dedicated child friendly Peak District cottages are very popular pages.
'It's not simply an accommodation list that we offer, although we are extremely proud of our wonderful directory,' explains Steve Wake, fellow director at Peak District Online.' We try to go above and beyond this, making our website into a huge directory of interesting places to visit and featuring all the attractions, what to do in wet weather conditions but also providing local history and information about each village in the Peak District.' He goes on to say, 'our latest pages have been really interesting to research and it's amazing how many myths and legends each place has. Most of the stories we can't validate, but its fun reading about them and it's up to the reader to believe or not to believe. I wouldn't want to be reading them on a dark winter's night, all alone in the dark, let's put it that way!'
See the new pages added to the Peak District's favourite online holiday accommodation directory every week and why not sign up for their newsletter to be kept informed of any relevant information and news regarding your holiday destination or perhaps your future holiday home?
The new pages all about myths and legends are launched today and open for viewing, but perhaps keep the lights on whilst you're reading them.