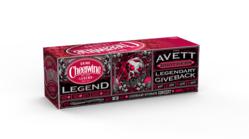 SALISBURY, N.C. (PRWEB) July 25, 2012
Two North Carolina legends are teaming up on October 19th in Charlottesville, Virginia to present a groundbreaking concert that will raise funds for family-aid organizations across the country. The legendary soft drink of the South, Cheerwine, and best-selling indie-rockers The Avett Brothers, will demonstrate what music can do to bring people together with a Legendary Giveback concert. Held at the nTelos Wireless Pavilion, the show will be live streamed nationally to anyone that makes a commitment to volunteer in their community.
The live stream will allow fans that are unable to attend the concert an opportunity to see the show. By pledging to volunteer their time to any charity or community organization through http://www.Cheerwine.com/giveback or Facebook they will earn a code that will provide them with online access to the concert through Livestream. One town that pledges the most hours will be given the opportunity to host a Cheerwine-sponsored Legendary Giveback concert viewing party in their hometown on the night of the big event.
Proceeds from the concert's ticket sales will benefit several organizations that specifically address the needs of families: Operation Homefront, devoted to helping military service members and their families; Big Brothers Big Sisters, the nation's largest donor and volunteer supported mentoring network; and University of Virginia Children's Hospital, which offers breakthrough research and total healthcare for childhood diseases.
"For all of our 95 years Cheerwine has had a very special bond with our fans, whether they were raised on Cheerwine or just took their first sip," said Tom Barbitta, Senior Vice President of Marketing and Sales for Cheerwine. "At the core of this program is a company value that says 'you get a whole lot more back when you give.' Teaming up with The Avett Brothers is a great chance to put smiles on a lot of faces while supporting people who take an active role through volunteering in their community, and partnering with Livestream gives us the chance to turn a regional idea into a national phenomenon."
The Charlottesville venue is in the heart of Cheerwine country, allowing fans of The Avett Brothers in the Southeast to come together in celebration. The nTelos Wireless Pavillion is a state-of-the-art outdoor venue in historic downtown Charlottesville. Supermarket chain Kroger® has also offered support for the Legendary Giveback, and the local community connection by displaying Cheerwine in all of their stores in Virginia and the Carolinas.
The Avett Brothers are currently touring the U.S. in support of their Rick Rubin-produced major label debut, I and Love and You, which reached #16 on the Billboard 200 best selling albums and received rave reviews. They recently announced their upcoming record, The Carpenter, slated for release on September 11th of this year. "Live and Die," a moving song of humility, was the first single from the album that made its debut on NPR on June 26 and was released nationally on July 3. The Carpenter is the first release via the new joint venture between Rubin's American Recordings and Republic Records.
"There's something very special about combining the joy of making music with the gratification of helping people," said Scott Avett, lead singer and multi-instrumentalist for The Avett Brothers. "This is a very powerful thing of which we're immensely proud to be a part, and we hope our friends and fans across the country join us in giving back."
Tickets will go on sale July 27th through MusicToday.com. Stay tuned for updates at http://www.Facebook.com/Cheerwine and on Twitter at http://www.twitter.com/DrinkCheerwine, and to learn more about the charities visit http://www.Cheerwine.com/giveback.
About Cheerwine
CHEERWINE: Born in the South. Raised in a Glass.
Launched in 1917 by L.D. Peeler, Cheerwine is a soft drink with a flavor that always surprises. It is an iconic brand from North Carolina. Owned and distributed by the Carolina Beverage Corporation and Cheerwine Bottling Company in Salisbury, N.C., the 95-year-old company is still privately owned and managed by the same founding family; four generations of whom have worked there. Cliff Ritchie leads Cheerwine as president and CEO. Available in supermarkets and convenience stores in select states nationwide and on the website at http://www.cheerwine.com.
About The Avett Brothers
The Avett Brothers formed in 2001 in Charlotte, North Carolina when banjoist Scott Avett and guitarist Seth Avett joined forces with standup bass player Bob Crawford. Raised in the textile town of Concord, North Carolina, The Avett Brothers were influenced by their dad, Jim Avett, who had a box of eight-track tapes that Scott and Seth picked through, listened to and digested. It included albums by Bob Dylan, Neil Young, Crosby, Stills & Nash, and Jim's own folksy duo, Common Decency. Other roots musicians from the folk and country realms filtered into their subconscious, too. Because of their wide range of influences, The Avett Brothers might be described as a rootsy amalgam of folk, country, bluegrass, rock and pop – with a jab of punk-style dynamics here and there. More information about The Avett Brothers can be found at http://www.theavettbrothers.com or http://www.Facebook.com/theavettbrothers.